William J. Clinton Bronze Medal US MINT Case Term 2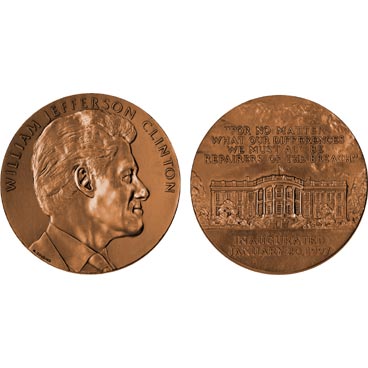 William J. Clinton (2nd Term) Bronze Medal 1-5/16" in a Velvet Presentation Case
The obverse of the medal features a portrait of William J. Clinton with the inscription "WILLIAM JEFFERSON CLINTON" centered along the top border of the medal. The reverse of the medal features the south portico of the White House and an excerpt from the President's Inaugural Address: "FOR NO MATTER WHAT OUR DIFFERENCES WE MUST ALL BE REPAIRERS OF THE BREACH" and the inscription "INAUGURATED JANUARY 20, 1997" is centered along the lower border of the medal.
The Deluxe Presentation Case is specially designed to nicely display the 1-5/16" medals of the United States Mint. Each presentation case holds one 1-5/16" medal in a blue velvet case with a white satin covered lid and gold trim.
$2.00 Insurance fee required.
Design: Obverse - W. Cousins Reverse - T. James Ferrell
Place Minted: Philadelphia Mint (no mint mark)
Composition: 90% Copper & 10%
br>Please read auction rules below for payment instructions.
TO SEE OTHER US MINT MEDAL COLLECTABLES FOR OTHERS SUCH AS,.POPE JOHN PAUL, REV. BILLY GRAHAM, CHARLES SCHULTZ, AND ALL PRESIDENTS send us an email.
West Hollywood, California
Dealer accepts: PayPal
Shipping: $6.99
Items Similar To "William J. Clinton Bronze Medal US MINT Case Term 2"