Vintage 1950 French Country Louis XV Arm Chair in Walnut with Floral Upholstery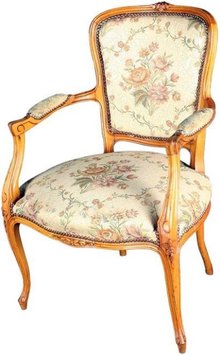 Click thumbnails for expanded view.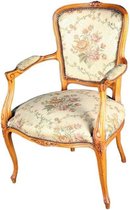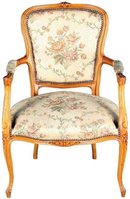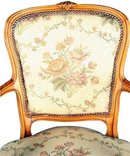 Product Details
Item #:
5-195B-0
Dimensions (inches):
34.25H x 24W x 21D
Seat Height 17.50H
Comment:
A lovely, vintage 1950 French Country chair with pretty carved details, delicate curved legs, and floral upholstery to give any room a sense of courtly romance! Made of walnut, the chair's padded arms offer comfort (along with the generously sized seat), while a profusion of upholstery tacks add visual interest. This vintage chair imported from France will become your favorite place for reading a book by the window or for putting on makeup in front of the vanity. Don't miss out on this lovely vintage French Country chair!
Origin:
France
Date:
1950
Material:
Walnut
Condition
Condition:
GOOD
In overall good condition. Antique and vintage items by their very nature show normal wear to finish and miscellaneous scratches, nicks, and dings due to age and use. As we define 'good condition' relative to the stated age of the piece, we would expect to see 'character marks' consistent with that age and could include nicks or dings on a piece of furniture, normal separation at joints in wood due to expansion and contraction over time, minor damage to veneer has been stabilized, most locks functioning, most drawers and doors open or slide easily, some original trim may be missing or has been replaced with genuine period-correct substitutes or new reproductions, and there may be one or more splits in the wood due to age and use. If there has been a break in the marble, it has been repaired and the repair may be visible. There may be minor restoration that is visible. Chairs considered 'good condition' may have professional structural repairs but are considered to be structurally sound. These types of repairs may be visible upon close inspection. Upholstered items may show wear consistent with age and use and may need to be reupholstered. EuroLux Antiques makes no representation regarding the comfort of chairs or useability for the customer's particular application.
Item Specifics:
Shows wear to the finish, the armrests are threadbare, and the seat upholstery shows wear along the front edge due to age and use.
Shipping
Free Shipping:
Free shipping only applies within the Contiguous 48 United States and this item will be shipped via Greyhound Bus. Shipments via Greyhound generally take between 1-3 weeks, as they are shipped space available by Greyhound Package Express.
If this timeframe exceeds your expectations or shipping requirements, please do not purchase this item. Shipments made via Greyhound Bus measure less than (inches) 30 x 47 x 84 and weigh less than 100 lbs per box. Shipments using Greyhound will require the customer to pick up the piece at their nearest Greyhound Bus Station. Please be sure that you are willing to pick the item up at the nearest Greyhound Station, as the nearest Greyhound Station may be a considerable distance from your home.
Items not picked up at the Greyhound Bus Station within 48 hours after arrival may be subject to a storage fee, which varies from station to station. EuroLux will be happy to help you locate the nearest Greyhound Station. All shipments include Insurance.
Additional Information
Style:
Louis XV LOUIS XV AND THE ROCOCO REVIVAL STYLE The nephew of Napoleon, Napoleon III (1852 - 1870), Emperor of the Second Empire, has the unusual distinction of being both the last monarch of France and the first President of the French Republic. Napoleon III married the beautiful Spanish Countess, Eug'nie de Montijo, whose aristocratic extravagance in dress and jewels reflected her ornate personal taste in furniture and decorative arts, and influenced French furniture makers to reach back to the designs from the glorious court of Louis XV (1715 - 1774) at Versailles for inspiration, creating the Rococo Revival style.
The extreme level of exuberant extravagance that blossomed under the reign of Louis XV and his favorite mistress, Madame du Pompadour, is known as the Rococo style. The word Rococo is thought to be a combination of the French rocaille, or shell, and the Italian barocco, or Baroque style. The rounded extravagance of the Rococo Revival style, enormously popular in the 19th century, was based on the original 18th century style. Hallmarks of this style, also known as the Louis XV style, include detailed carvings of birds, flowers (especially roses) and leaves, fruit, and shells. Furniture overflowed with massive carvings and grandiose S and C curves. The cabriole leg, which means a knee leg with concave rounded ankle, was very popular and is also a trademark of the Louis XV style. Rosewood and walnut were popularly used in the Rococo Revival style, along with a great interest in white marble for vanities, nightstands, and parlor tables.
As the middle class rose in status and wealth with the advent of the Industrial Revolution in the 19th century, more people were able to afford furniture. This flattening of society in combination with technological advancements created a surge of furniture production. Improved transportation meant a greater variety of wood was available at lower costs. For the first time, furniture became accessible and affordable to the common man. From the 1830s to the end of the 19th century, furniture makers reached back to earlier historical styles, and reinterpreted them with a great deal of creativity and experimentation. Although machines were used to increase speed and productivity, most of the carvings were still done by hand. As furniture began to be created cooperatively in workshops, the practice of signing pieces (required by law from 1743 to 1789) was not as prevalent. Most French pieces from the 19th century do not have maker's marks or signatures.
Object:
Armchair
The Fine Print
Because EuroLux Antiques maintains its own website and lists on other online sites, while also operating a physical store location in Newberry, South Carolina, we reserve the right to end any listing early if it has not been purchased outright or no bids have been placed upon the item. On occasion, a piece listed on a website may no longer be available. We do our best to maintain the accuracy of our inventory records but we often have customers interested in the same item at the same time. In those cases, we defer to the customer who placed the earlier order. We apologize in advance by any inconvenience this may cause. Because of this, we encourage all of our buyers to purchase the item as quickly as possible so that your treasured find doesn't sell elsewhere to someone else. Happy browsing and thanks! Aimee & Greg Talbot at EuroLux Antiques.
Terms & Conditions
All Buyers purchasing any of EuroLux Antiques listings acknowledge that they have completely read and agree to all terms and conditions stated in EuroLux Antiques'
Complete Terms and Conditions.
EuroLux Antiques has painstakingly developed these policies and procedures to protect the Buyer and EuroLux Antiques, and not reading these policies will not be accepted as an excuse for the Buyer's dissatisfaction.
Please, Do Not Contact EuroLux for Appraisals, Information About or Sale of Your Personal Items EuroLux Antiques receives many phone calls and emails each day from people requesting additional information, appraisals, or assistance selling their items. We are very happy to discuss any of our items with prospective buyers, but due to time constraints, we cannot respond to requests from non-customers. If your item is of a similar nature to one you see in our listings, please take that as a guide to your item's potential value and please feel free to use any information from our listings to help you identify your item. We do not buy from individuals, and if you wish to sell your items, we might suggest l
Newberry, South Carolina
Seller Since 2004

---
Payments Accepted:
Shipping:
Negotiated with Seller
Item Details:
Category
Furniture & Furnishings
Dimensions
Width: 24 inches
Height: 34.25 inches
Depth: 0 inch
Weight: 18.6 pounds
Condition
Used - Good. See description for more details.
Items Similar To "Vintage 1950 French Country Louis XV Arm Chair in Walnut with Floral Upholstery"