Vic Herman S/N Lithograph, Fishing, "Net Work"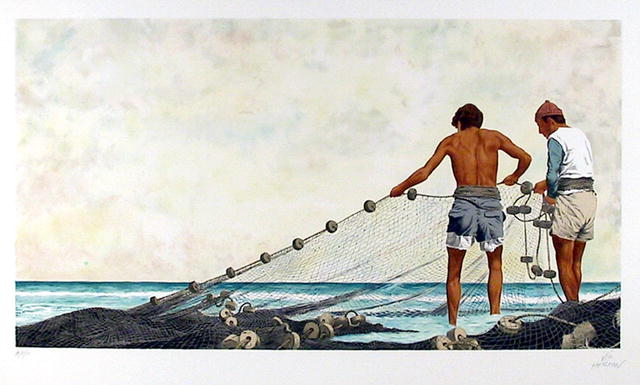 Artist: Vic Herman
Title: Net Work
Year: 1980
Medium: Lithograph
Edition: 300
Paper Size: 29" x 23"


Vic Herman has built up a binational reputation as an unofficial ambassador of goodwill from the United States of America to the United States of Mexico. He is an artist whose style is unique and who has the faculty for making that fact known. Since 1961 the governments of both countries have sponsored a travelling exhibition of his paintings of the Mexican people titled "Many Faces of Mexico" -for exhibition in cities of both countries. Herman has the unique honor of being the only artist ever sponsored by both governments simultaneously.
Vic Herman was born in Fall River, Massachusetts. When Herman was one-year-old his father, who played in the famous Paul Whiteman band, moved the family to Los Angeles where they settled in the Mexican district of the city where young Vic grew up. He attended classes, through junior high school, in all Mexican-American schools, learned to speak Spanish, and grew to love his Mexican-American neighbors and their culture.
Says Herman, "If the many peoples of Mexico, when seeing my exhibitions, accept my paintings as authentic in telling the story of their daily lives, and if the peoples of the United States understand the dignity, culture and arts of the Mexican peoples, I feel that I will have fulfilled the purpose of my activities-that is, helping to cement the friendship between our two countries."
Apparently our neighbors to the south have accepted Herman's paintings as being authentic depictions of their daily lives. They refer to him affectionately as "Papa Victorio." Father Benjamin Fernandez Valenzuela, of Morelia, Michoacan state, says, "Senor Herman paints with the hand of an American and the heart of a Mexican."
Vic Herman's paintings tell a story. That story may be a simple one, but the painting must say, without a verbal caption, "This is a Tarascan woman selling jicamas."
Having chosen his subject, Herman next proceeds to capture his or her likeness with a careful pencil drawing-with or without the subject's knowledge. This may be followed by several thumbnail sketches to indicate the composition or pattern of the entire picture. He may work with the model for a day or two. For a re - - ~ior~ h~ ~~II nft~n t~k~ (shawl), serape, skirt, or whatnot, along with toys, artifacts, or any other articles pertaining to the subject. This is all tagged and packed away in his station wagon for return to the States. On one occasion an entire dismantled Mexican ox cart was brought home in this manner.
A remarkable feature of Herman's method is his interpretation of mixed media. For Herman this means combining any number of different media such as oil, watercolor, casein, acrylic, tempera, pencil, pastel or india ink; once he used as many as eight.
In 1969, during the bicentennial celebration of the founding of San Diego, Herman was awarded a Medallion of Honor for his part in furthering good relations between Mexico and the United States. Recently, he has been proposed as a candidate for the Order of the Aztec Eagle, the highest honor Mexico can grant to a foreigner for promoting better cultural relations between Mexico and his country-a fitting tribute to Vic Herman's dedication and talent.
Dealer accepts: Check, Cash, PayPal, Authorize.Net
Shipping: Negotiated with Seller
Items Similar To "Vic Herman S/N Lithograph, Fishing, "Net Work""