Universal Pictures Company, Inc. Letter signed by J. Cheever Cowdin - Universal Pictures Chairman 1936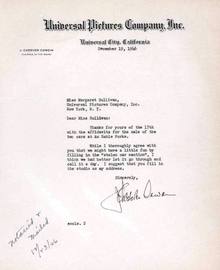 Click thumbnails for expanded view.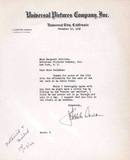 Signed letter from J. Cheever Cowdin to Margaret Sullivan. Universal Pictures Company, Inc. Universal City, California December 19,1946 J. Cheever Cowdin Chairman of the Board Miss Margaret Sullivan Universal Pictures Company, Inc. New York, N.Y. Dear Miss Sullivan: Thanks for yours of the 17th with the affidavits for the sale of the two cars at Au Sable Forks. While I thoroghly agree with you that we might have a little fun by filling in the "stolen car section", I think we had better let it go through and call it a day. I suggest that you fill in the studio as my address. Sincerly, Cheever Cowdin J. Cheever Cowdin, became President of Universal in 1936. Below is the Universal History: 1867 On January 17, Carl Laemmle is born in Laupheim, Germany, the tenth child of Rebecca and Nathanael Laemmle. In 1884 the boy immigrates to America. 1906 On February 24, Carl Laemmle, now 39 years old, opens the White Front Theatre in Chicago, the first of a string of nickelodeons. 1906 In November, Laemmle founds the Laemmle Film Service, a film distribution company that by 19l9 was servicing a majority of cinemas in the Midwest and Canada. 1909 In June, Laemmle founds the Yankee Film Company, soon to be named the Independent Moving Picture Company of America (IMP) in New York. IMP takes the lead in defying the Motion Picture Patents Trust, a monopoly attempting to control all phases of film production, distribution, and exhibition. 1909 On October 25, IMP's first film production, Hiawatha, directed by William V. Rancous on location in Coytesville, N.J., is released by the studio. 1911 MP acquires first West Coast studio at Gower and Sunset in Hollywood. 1912 On June 8, 1912, Universal Film Manufacturing Company is founded, the result of a merger of IMP (Carl Laemmle), Powers Motion Picture Co. (Pat Powers), Rex Motion Picture Company (William Swanson), Champion Film Company (Mark Dintenfass), Nestor Film Co. (David Horsley), and the New York Motion Picture Co. (Charles Baumann and Adam Kessel). 1913 The Universal Animated Weekly, the studio's first newsreel is founded. 1913 Universal's first feature length film, Traffic in Souls, directed by George Loane Tucker, grosses $450,000, thanks to its sensationalist story of white slavery. 1914 Isadore Bernstein purchases 230 acre Taylor Ranch in North Hollywood for $165,000, which had been used by Universal for outdoor scenes since 1912 ("Universal Ranch"). Ground is broken on June 18 for Universal Studios, and production is in full swing by September. Damon and Pythias becomes the first feature film shot at Universal City. 1915 On March 15, 1915, Universal City celebrates its gala opening. For 25¢, the public is allowed to observe the set of movies in production. 1916 Where Are My Children?, written and directed by one of Hollywood's earliest female filmmakers, Lois Weber, grosses over $3 million. 1919 Erich von Stroheim directs his first film at Universal, Blind Husbands. 1924 Dr. Jules Stein and William R. Goodheart Jr. found Music Corporation of America (MCA) as a talent agency for live music and later radio. Some of their famous clients included Tommy Dorsey, Guy Lombardo, Lionel Hampton, Benny Goodman, Burl Ives, Frank Sinatra, Gene Krupa, Kay Kaiser. 1925 Rupert Julian's Phantom of the Opera stars Lon Chaney. 1928 Universal opens its first "talking picture," Melody of Love. The Universal tour is discontinued in 1930, due to the need for quiet sets. 1928 Walter Lantz, creator of Oswald the Rabbit, Woody Woodpecker, and Andy Panda, joins Universal, where he will remain as an animator and later, independent producer for almost sixty years, except for a brief stint at U.A. (1947-48). In 1984, MCA acquires Walter Lantz Productions. 1929 Carl Laemmle, Jr., Uncle Carl's twenty-one year old son, is placed in charge of production at Universal and institutes a radical change in studio policy, producing a series of prestige pictures while de-emphasizing "programmers." 1930 All Quiet on the Western Front wins "Best Picture" Academy Award. 1931 Dracula and Frankenstein are released, beginning Universal's horror cycle. 1934 In July, American Decca Recording Company is formed by Jack Kapp and Edward Lewis, founder in 1929 of the Decca Record Co., Ltd. (England). 1935 MCA receives a blanket waiver from the American Federation of Musicians, permitting them to act in the dual capacity as talent bookers and program producers, allowing them to package radio shows with their own bands. 1936 On March 14, Carl Laemmle is forced out by Universal's creditors and a financial group around Standard Capital takes over the studio for $4.5 million. Charles R. Rogers becomes head of production, and J. Cheever Cowdin, President. 1936 Twenty-two year old Lew Wasserman joins MCA in Cleveland. Ten years later, on December 16, 1946, Wassermann is appointed president. 1936 Three Smart Girls, directed by Henry Koster, introduces fourteen-year-old Deanna Durbin. The film earns $1.6 million on an investment of $261,000. Over the next twelve years Durbin will star in 21 box office hits, contributing immeasurably to the studio's bottom line. 1938 In January, Cliff Work succeeds Charles R. Rogers as production head, and RKO theatre executive, Nate Blumberg, is named president. 1938 MCA opens an office in Beverly Hills, across the street from City Hall, and sends Lew Wasserman to the West Coast. 1939 Deanna Durbin wins a Special Academy Award "for bringing the spirit and personification of youth to the screen." 1939 W.C. Fields stars in You Can't Cheat an Honest Man, the first of four comedies the actor will make at Universal. 1940 A minor radio team, Bud Abbott and Lou Costello, make A Night in the Tropics, which catapults the duo to such fame that many subsequent titles have their name in them. 1941 Arabian Nights, starring Jon Hall and Maria Montez, is Universal's first 3-c
Fairfax, Virginia
Seller Since 1995

---
Payments Accepted:
Item Details:
Category
Coins & Currency
Dimensions
Width: 0 inch
Height: 0 inch
Depth: 0 inch
Weight: 0 pound
Condition
See Description
Items Similar To "Universal Pictures Company, Inc. Letter signed by J. Cheever Cowdin - Universal Pictures Chairman 1936"