Trans World Airlines, Inc. 1961 - Pre American Airlines Takeover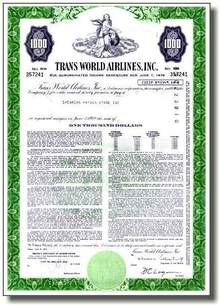 Click thumbnails for expanded view.
Beautifully engraved certificate from the Trans World Airlines, Inc. issued in 1961. This historic document was printed by the De La Rue Banknote Company and has an ornate border around it with a vignette of an allegorical woman sitting upon a cloud holding a globe. It has period diagonal cancellation holes across the the lower portion of the certificate. This item has the printed signatures of the company's chairman and secretary and is over 40 years old. With the pending merger of TWA and American Airlines, these certificates are becoming much harder to locate. On January 10, 2001 – Trans World Airlines, Inc. announced that it had reached an agreement with American Airlines, Inc. ("American"), a subsidiary of AMR Corporation, in which American will acquire substantially all of TWA's assets. The asset purchase agreement includes TWA's jet aircraft as well as numerous routes and gates throughout the TWA system and significant maintenance facilities. The agreement will protect air service in St. Louis and maintain St. Louis's role as a major transportation center. The agreement also calls for American to offer employment to almost all of TWA's 20,000 employees. TWA currently operates approximately 190 aircraft and approximately 800 daily flights. Concurrently, TWA said today that it and certain subsidiaries had voluntarily filed petitions in the U.S. District Court in Wilmington, Delaware for relief under Chapter 11 of the U.S. Bankruptcy Code. In order for the agreement with American to go forward, TWA also filed a motion seeking the Court's approval of an asset purchase agreement with American pursuant to section 363 of the Bankruptcy Code. Milestones in TWA History July 13, 1925 Western Air Express (WAE) is incorporated. July 7, 1929 Transcontinental Air Transport (TAT) inaugurates coast-to-coast air and rail service on route laid out by Col. Charles Lindbergh from New York to Los Angeles (Glendale) via Columbus, Ohio; Indianapolis, Indiana; St. Louis and Kansas City, Missouri; Wichita, Kansas; Waynoka, Oklahoma; Clovis and Albuquerque, New Mexico; and Winslow and Kingman, Arizona. October 1, 1930 The "TWA" brand is born when TAT and WAE merge to form Transcontinental and Western Air, Inc. October 25, 1930 TWA inaugurates coast-to-coast all-air service. The cross-country journey takes 36 hours, including an overnight stop in Kansas City. Summer, 1931 TWA relocates its headquarters from New York to Kansas City. August 6, 1931 TWA inaugurates the first air cargo service in the U.S. with a shipment of livestock from St. Louis to Newark. September 20, 1932 TWA and Douglas Aircraft sign a contract for development of a revolutionary new all-metal twin-engine airliner, dubbed the Douglas Commercial Model 1 (DC-1). December, 1933 The only Douglas DC-1 ever built is delivered to TWA. May 18, 1934 The Douglas DC-2, the production version of the DC-1 and forerunner of the DC-3, enters commercial service on TWA's Columbus-Pittsburgh-Newark route. December 27, 1934 Jack Frye is named President of TWA. In the dozen years of his presidency, TWA will grow from Tri-Motors to Constellations and emerge as a major world airline. December 6, 1935 First TWA "air hostesses" begin flying aboard the DC-2. June 1, 1937 Sleeper berths are introduced in TWA service. 1939-1940 Howard Hughes acquires control of TWA. Although never holding an official position with the airline, he will own and control TWA for the next 25 years. 1940 TWA offers the first-ever in-flight audio entertainment, providing individual receivers to passengers to listen to commercial radio programs. July 8, 1940 Boeing 307 Stratoliner service is inaugurated by TWA providing coast-to- coast travel in 13 hours, 40 minutes. The Stratoliner is the first pressurized, all- weather commercial airliner. April 17, 1944 Howard Hughes and TWA President Jack Frye pilot a new Lockheed 049 Constellation from Burbank, California, to Washington, DC, in 6 hours 57 minutes, setting a new cross-country speed record. February 5, 1946 TWA begins transatlantic service with the Lockheed Constellation flying the New York-Gander-Shannon-Paris route. March 31, 1946 Inauguration of TWA's international service to Rome, Athens and Cairo. May 1, 1946 Inauguration of TWA's international service to Lisbon and Madrid. January 30, 1947 Inauguration of transatlantic all-cargo service. This was the first regularly scheduled direct all-cargo service ever operated over the North Atlantic. October 1, 1948 Inauguration of all-sleeper luxury service from New York to Paris, known as the "Paris Sky Chief," and from Paris to New York, known as the "New York Sky Chief." 1950 TWA's corporate name is officially changed to Trans World Airlines. July, 1951 The Missouri River floods at Kansas City, extensively damaging the TWA overhaul base at Kansas City, Kansas, Fairfax Municipal Airport. In the aftermath of the flood TWA and Kansas City begin development of a new, flood-proof TWA overhaul base and a new international airport north of the city. May 31, 1952 The first TWA Ambassadors Club opens, at Greater Pittsburgh Airport. October 19, 1953 TWA begins the first non-stop eastbound scheduled transcontinental service with Super Constellations. The flight from Los Angeles to New York took 8 hours. Because of prevailing head winds, westbound transcontinental service continued to stop in Chicago to refuel. 1954-1958 Most TWA executive offices are relocated to New York. Training, maintenance and engineering and administrative functions remain in Kansas City. January 3, 1957 TWA is the first airline to offer passengers freshly-brewed coffee in flight. 1957 TWA occupies its new $25 million maintenance and overhaul base at Mid- Continent International Airport, Kansas City. Fifteen years later, in 1972, commercial air service for the Kansas City region is relocated from TWA's long-time home at Municipal Airport to Mid- Continent, which is renamed Kansas City International Airport. September 29, 1957 TWA launches polar route service from Los Angele
Fairfax, Virginia
Seller Since 1995

---
Payments Accepted:
Item Details:
Reference #
tranworairin2
Category
Coins & Currency
Dimensions
Width: 0 inch
Height: 0 inch
Depth: 0 inch
Weight: 0 pound
Condition
See Description
Items Similar To "Trans World Airlines, Inc. 1961 - Pre American Airlines Takeover"