The Paintings of Paul Cezanne - A Catalog Raisonne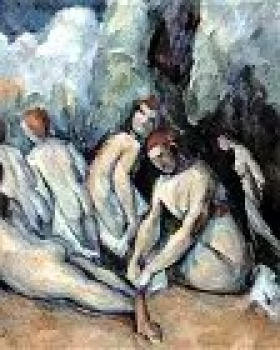 Published by Abrams. This is a 2 volume set. The result of more than half a century of research, John Rewald's two-volume catalogue raisonné of 954 paintings and incisive essays is much, much more than a coffee table book-it is a comprehensive reference intended for scholars, curators and collectors. The plate volume contains black-and-white reproductions of the paintings, arranged chronologically, with their titles, dimensions and dates. The text volume is a repository of lucidly-organized data, with copious information for each entry, including ownership, exhibition and publication of each work. Sixty color reproductions of Cézanne's largest paintings appear in the text volume-nearly all of the artist's large-format pieces. The heart of the text volume is Rewald's commentaries, revealing a mind as lively and imaginative as it is careful and painstaking. Anecdotes and interesting facts abound, always relating to the painting under consideration yet far-ranging, amusing, and provocative. He quotes from an enormous variety of sources with obvious enthusiasm for his subject, revealing fascinating stories that are nonetheless tempered with proper skepticism for certain sources. 200 documentary photographs are integrated with the entries, including biographical photographs of the artist, his friends and relations, and his subjects. Rewald himself photographed many of Cézanne's landscape motifs in the 1930s, when the land looked much more as Cézanne had seen it, as well as the artist's studio. This is the essential catalogue-the authoritative resource-of the paintings of Paul Cézanne. 880 pgs. Publisher: Abrams Publishing: Hardcovers, ib blue cloth.
Dealer accepts: PayPal
Shipping: Negotiated with Seller
Items Similar To "The Paintings of Paul Cezanne - A Catalog Raisonne"