Survey Graphic 1/32 Depression,Health Care,Diego Rivera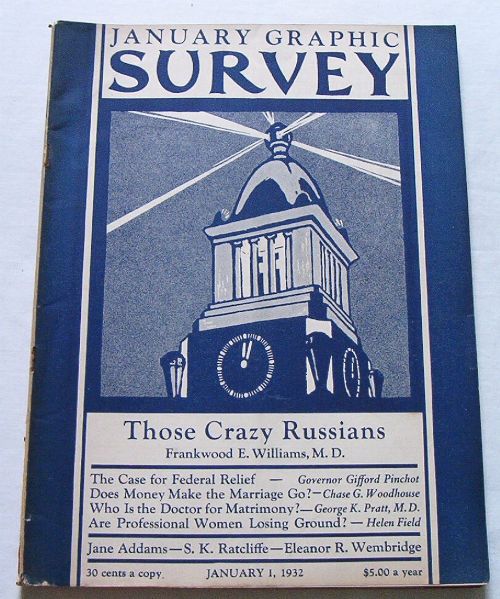 $15.00
Quantity available: 1
This is "The Survey - Graphic Number" for January 1, 1932. Great essays and articles on sociology, economics, industry, education, and government. Contents include: Those Crazy Russians! - A Mental-Hygiene Hunting Trip in the U.S.S.R. "I Am Opposed to Any Dole" from the Message to Congress, December 8, of President Hoover The Case for Federal Relief by Gifford Pinchot Are Women Losing Ground? by Helen Field Does Money Make the Marriage Go? by Chase Going Woodhouse Doctors of Matrimony by George K. Pratt, M.D. Recent Paintings by Diego Rivera - three paintings reproduced here (black-and-white) and a very brief article Social Consequences of Depression by Jane Addams Potions and Pills - the High Cost of Mystery by Mary Ross (re: the cost of health care and where the money goes) England After the Deluge - What of the Social Services and the Standard of Living? by S.K. Ratcliffe The Loopholes Left at Versailles Through Neighbors' Doorways: Down to the Poppies by John Palmer Gavit Dug-Outs and Settle-Ins - photographs and text by Jeannette Griffith Letters and Life - Log-Books for 1932 ...and more.
Illustrated with black-and-white photos, maps, woodcuts, and other drawings. Size 9" x 12", pages 337-400. Condition is good, covers slightly dirty, cover and some pages are coming apart from each other at the staples; otherwise pages are clean. [Box 47076] - [Item 122066]
Dealer accepts: Money Order, PayPal
Shipping: $4.50
Items Similar To "Survey Graphic 1/32 Depression,Health Care,Diego Rivera"