Steuben Glass an American Tradition.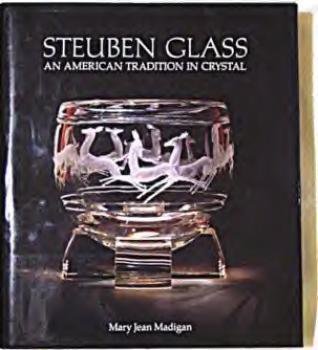 Mary Jean Madigan is former editor of Arts & Antiques magazine. Her background in American history has led her into mu­seum work, restoration activities, exhibi­tions, antiques collecting, lecturing, and advising, and she has served as a technical consultant to the New York State Council on the Arts. She has written exhibition cata­logues, auction news for WNCN Radio, and many articles and reviews for magazines. If you are a Steuben collector or simply one interested in the history and work of America's preeminent producer of fine crystal, Ms. Madigan's book is an essential and interesting reference work. The book features many beautiful photographs of important works by Steuben's best designers. The book's most valuable feature for collectors is its comprehensive catalogue of some two thousand Steuben items produced during the years 1933-1981. Although most stock pieces are represented only by line drawings and key dimension (rather than by photography), the information furnished is usually sufficient to facilitate identification of Steuben products, if not especially helpful on issues of valuation. If you love Steuben, you will want to own a copy of this book.
Dealer accepts: PayPal
Shipping: Negotiated with Seller
Items Similar To "Steuben Glass an American Tradition."