Steuben - Seventy Years of American Glassmaking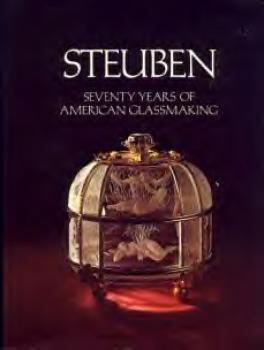 Celebrating seventy years of superb glass making, this book offers a port-folio of magnificent museum-quality pieces made between 1905 and 1973. The 94 illustrations, 16 in color, show the variety of Steuben glass - from the soft pastel Art Nouveau glass of Carder to the imposing crystal chalices and free-form sculptures of the Houghton years, from the elegant table settings cherished in American homes across the country to the splendid pieces presented to foreign heads of state by American presidents since Truman. The text surveys and assesses the achievements of the company since its inception and offers interesting information as to how individual pieces were crafted in the shop." STEUBEN - SEVENTY YEARS OF AMERICAN GLASSMAKING preface by Otto Whittmann, Praeger Publishers, NY, 1973. This book covers by chapter: Introduction by Paul N. Perrot; Steuben Glass: The Carder Years, 1903-1932 by Paul Garner; Steuben Glass in Public Collections: The Houghton Years, 1933-1973 by James S. Plaut; and Index. Pictured examples include aurene glass of various colors, Verre de Soie, alabaster, colored and crystal glass, grotesque, cintra, cluthra, moss agate, Tyrian, millefiori, and more. The narrative is rich and the photography is brilliant in this rare, out-of-print hardback book. 7.7" x 9.8" Hardback in very good+ condition. 172 pages.
Dealer accepts: PayPal
Shipping: Negotiated with Seller
Items Similar To "Steuben - Seventy Years of American Glassmaking"