Southern Life Insurance and Trust Company of Florida Territory 1839 signed by Governor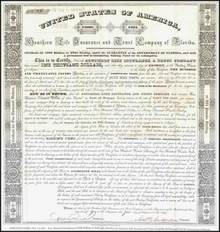 Click thumbnails for expanded view.

Beautifully engraved RARE certificate from the Southern Life Insurance and Trust Company of Florida issued in 1839. This historic document has an ornate border around it witn an embossed seal. This item is hand signed by the Company's President ( ? Anderson )and Secretary ( A. M. Reed) and is hand signed by the Governor of Florida, Richard Keith Call on the verso. This historic item and is over 164 years old. This certificate has over 40 coupons attached to it on the sides and bottom, that are not shown in the scan.
Governor Signature Florida banking began in the 18th century with the Indian trading firm of Panton, Leslie and Company who established such services during the English control and continued them after the Spanish occupation when it is said that it became the financial agents of the Spanish government in Florida. It was the only banking company in Florida until several years after American ownership. However, hardly had the territory been organized before banking projects sprang up in rapid succession, each constituting a special case as there were no general banking laws. Governor William P. DuVal, first governor of territorial Florida, opposed these new banks successfully until 1829, but after numerous efforts, and several vetoes by the Governor, Florida's first bank opened in 1829 as the Bank of Florida at Tallahassee, which it later became the Central or Union Bank of Florida. Some records show that it began operations with $60,000 of and authorized capital of $1,000,000. In the early thirties, the "Big Three" came into existence: they were the Bank of Pensacola, the Southern Life Insurance and Trust Company, and the Union Bank of Tallahassee, originally the Bank of Florida. There was much hope over Florida statehood, since at that time it was expected that Kansas would soon be ready as a free state. The small farmers delayed the main vote to bring up all their serious oppositions. They wanted a revision of Florida's bank charters to offer loans for small farmers, since they claimed the state's three existing banks - the Union Bank of Tallahassee, the Bank of Pensacola, and the Southern Life Assurance and Trust Company - were owned and operated by planters, Europeans, and Northerners. When the planters brought up bank financing of a new railroad project, the small farmers treid to utilize anti-bank sentiment to delay Florida's statehood bid. Richard Keith Call (1792-1862) served as Florida's third and fifth territorial governor during the 1830s and 1840s. Born in Virginia and educated in Tennessee, Call served in the Creek War and became and aide and protegee of Andrew Jackson. He later served with Jackson in Florida, and returned to the territory in the early 1820s to assist in the establishment of a new American territorial government. Call would sit in the state legislative council and as Florida's delegate to Congress. He also was a brigadier general in the state militia and in 1836 became territorial governor. While governor, Call commanded troops in the Second Seminole War. He was dismissed as governor as a result of conflicts with the Van Buren administration, but he was re-appointed governor in 1841. Defeated for governor in 1845, he would not again hold public office. Call frequently changed his political affiliations, being in turn a Democrat, Whig, Know-Nothing, and Constitutional Unionist. As the country lurched toward Civil War in the late 1850s and early 1860s, he remained an ardent Unionist. Though no supporter of the Republican Party, Call opposed secession in the weeks after Lincoln's election and published a pamphlet entitled An Address to the People of Florida from General R.K. Call in which he labeled disunion "'high treason against our constitutional government.'" Call sent a copy of his pamphlet to Edward Everett, a noted northern orator who had unsuccessfully run as vice-president on the Constitutional Union ticket in the election of 1860. In Everett's reply, reproduced here, he thanked Call for the pamphlet and suggested that the U.S. Congress, in an effort to prevent Civil War, might provide Lieutenant General Winfield Scott with dictatorial powers for six months. Following Florida's withdrawal from the Union in early January 1861, secessionists taunted Call: "'Well, Governor, . . . we have done it!'" Call replied prophetically, "'And what have you done? . . . You have opened the gates of Hell, from which shall flow the curses of the damned which shall sink you to perdition!
Fairfax, Virginia
Seller Since 1995

---
Payments Accepted:
Item Details:
Category
Coins & Currency
Dimensions
Width: 0 inch
Height: 0 inch
Depth: 0 inch
Weight: 0 pound
Condition
See Description
Items Similar To "Southern Life Insurance and Trust Company of Florida Territory 1839 signed by Governor"