Southern Iron and Steel Company 1909 - Gold Bond ( Standard Steel Company )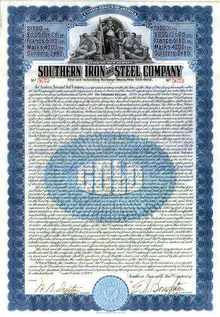 Click thumbnails for expanded view.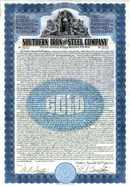 Beautifully engraved certificate from the Southern Iron and Steel Company issued in 1909. This historic document was printed by the American Banknote Company and has an ornate border around it with a vignette of an allegorical woman dressed in armor and two allegorical men sitting beside her. This item is hand signed by the company's vice-president and assistant secretary and is over 91 years old. The assets of the company were acquired by Standard Steel Company in 1912. This was a gold bond that was payable in Dollars, Pounds, Francs, Marks and Guilders. There are over 35 unsed coupons attached that are not shown in the scan. What follows is a brief history of Standard Steel and Freedom Forge. 1795--Freedom Forge founded to manufacture iron bars and rods. 1808--Original forge destroyed by fire. 1811--Freedom Iron Works established with an annual capacity of 145 tons. 1812--Blast furnace installed. 1829--Pennsylvania Canal reached Lewistown. 1833--Company name changed to Norris Rawle and Company. 1834-1835--Completed construction of the Greenwood Furnace; annual capacity increased to 800 tons. 1849--Pennsylvania Railroad was extended west to Lewistown. 1856--Renamed Freedom Iron Company, annual capacity was 1310 tons, and the first ring mill in the United States was installed to produce 2000 locomotive tires per year. 1865--Company name changed to Freedom Iron and Steel. 1867--"Emma" blast furnace built. 1868--Two five-ton bessemer converters, a rail mill, and a ten-ton steam hammer were added. 1870--Company name changed to Logan Iron and Steel; blast furnace enlarged and new crucible steel melting introduced with an additional steel making capacity of 1500 tons per year. 1875--Company name changed to Standard Steel; Charles T. Perry appointed as President. 1895--Standard Steel designed and introduced the first bolted and steel-tired railroad wheel. 1895-1897--Three 10-20 ton open hearth steel making furnaces added; blast furnace operations ended; William Burnham became President. 1898--Forge Shop built to produce railroad axles. 1903--Spring Shop constructed to produce railroad and locomotive springs. 1904--Standard Steel developed the STANDARD WHEEL, a forged-and-rolled railroad wheel which became the new standard of the American railroad industry. 1912--Acquired Southern Iron and Steel Company's assets 1917--Two 75-ton open-hearth furnaces and a new wheel mill added. WWI--Commercial operations modified to include artillery shells and howitzer forgings. 1930--Standard Steel developed the FREEDOM WHEEL, the railroad industry's first heat-treated wheel. 1939--Standard Steel produces one-fifth of the locomotive tires in the United States. WWII--Commercial operations changed to include the production of gun barrels, tank castings and military forgings. Annual steel making capacity: 160,000 tons. 1958-1971--Four electric arc steel melting furnaces replaced open hearth steel production and two vacuum arc remelting furnaces installed for specialty steel applications; argon oxygen decarburization refining vessel installed for stainless steel making. 1968--World's largest automated axle-forging-machine and matching equipment added. 1972--Standard Steel purchased by Titanium Metals Corporation of America. 1975-1979--Ingot production converted to higher-quality bottom-poured cylindrical-ingot design (an American exclusive). 1976--Purchased Latrobe Forge & Spring Company, an electric-furnace steel producing and forging plant. 1977--Installed the largest modern ring-rolling mill in the United States. 1981--Incorporated as Freedom Forge. 1982--Modernized the railroad wheel forge shop and introduced the S-WHEEL. 1989--Senior management team purchased Standard Steel. 1995--Celebrated 200 years: Setting the Standard - Forging the Future. 1996-1998--Modernization of wheel manufacturing, the largest investment in its history. 1999--Phased Array Development
Fairfax, Virginia
Seller Since 1995

---
Payments Accepted:
Item Details:
Category
Coins & Currency
Dimensions
Width: 0 inch
Height: 0 inch
Depth: 0 inch
Weight: 0 pound
Condition
See Description
Items Similar To "Southern Iron and Steel Company 1909 - Gold Bond ( Standard Steel Company )"