Ships & Sailing 10/51 - Undersea Cable Repair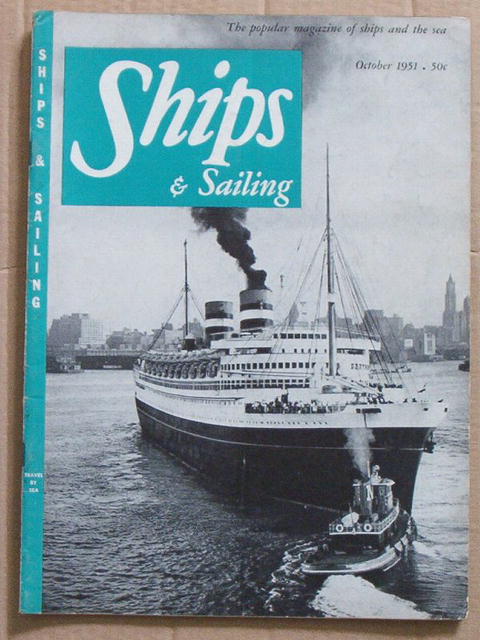 $15.00
Quantity available: 1
This is
Ships & Sailing
, Volume One, Number Five, October 1951. Contents include: "The
Constitution
comes home" - even the press was thrilled when the new liner arrived in New York; "Carefree port in the Caribbean" - Adventurous yachts and roving freighters have made glittering Martinique the world's crossroads; "The
All America
tracks 'em down" - A resistance measurement, an urgent radio call, and the hunt is on for a break in the undersea communications cable to South America (detailed article and photos about cable repair vessel); "Battle of Tugs" - When the speediest tugs on the Great Lakes take a day off to race, the diesels win but the old-time coal burners can still give them stiff competition; "
Tusitala
, teller of tales - The
Tusitala
could have told many a tale before she sailed for Honolulu in 1926 - but none could equal her fame as the last American square-rigger; "Marine Salon" - photo spread including Caribbean Cruise, Oil For Defense, and West Coast Lumber Sailers; "Tramping For Trade" - Although a product of the free trade era, the tramp is far from finished and still carries much of our defense emergency cargo; "What to do with a drunken sailor" - The chanteyman knew what to do, and he gave detailed instructions in the lusty lyrics of the old short haul chantey; "Port of New Orleans" - article includes numerous photos and a map of the port; "The sinking of the
Royal Oak
" - A Nazi submarine destroyed the battleship in a single night but behind it lay 16 years of the most careful plotting; "the model shipwright", book reviews, and more.
Size is 8.25" x 11.25", 66 pages. Very good condition, with slight shelf wear.
Check our other auctions for more issues of Our Navy and Ships & Sailing from the 50's and 60's! [Box 47055] - [Item 118015]
Dealer accepts: PayPal, Money Order
Shipping: $4.50
Items Similar To "Ships & Sailing 10/51 - Undersea Cable Repair"