Buy
Account
Sellers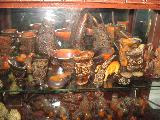 "The Heritage Gal" store contains a wide variety of fine things including Jewelry, Art, Dolls , Historical, Bronzes. Glass , Books and many more categories not mentioned here . We...



I love antiques of all kinds, Pottery, Glass, Costume Jewelry, Fine jewelry, and wood decoys. You will find them all here. I have lots of things to sell. Hope you like them. DON'T FORGET TO...

Maryland dealer with American & European Art Glass

SOLAS: acronym for Serendipity On Line Antique Sales. Serendipity: the phenomenon of finding valuable or agreeable things not sought for. That kind of sums up my business. I rarely start out...

San Francisco, California

Antique Tapestry, Textile, & Rug Gallery located in the Manhattan Art & Antiques Center for over 30 years!!!!!

Le Louvre French Antiques are Direct Importers of France of 18th and 19th Century French Furniture, Accessories , and Chateau Architecturals. Le Louvre French Antiques, has been a leading ...

BEEN IN THE ANTIQUE BUSINESS FOR OVER 35 YEARS AND NOW I HAVE CLOSED MY ANTIQUE STORE AND SELLING ONLY FROM MY HOME AND ON LINE MOST OF MY ITEMS HAVE BEEN REDUCED TO WITH IN A 15% RANGE OF C...