Buy
Account
Sellers

Harpending Corners was actually a location in the small town of Dundee In Upstate NY near the Finger Lakes.  My mother's family name is Harpending and we traced our roots back to 1662 ...

Established in 1982. An internet trading company, based in London England. We sell a wide variety of good quality antiques and collectibles. This includes Jewellery, Silverware, Silver-Plat...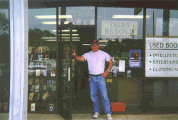 Tales Resold has been serving central North Carolina''s comic and used book needs since 1980. Our store front business closed in 2008 but we continue to sell back issue comics and collectib...