Buy
Account
Sellers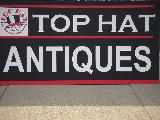 TOP HAT ANTIQUES IS A PART OF TOP HAT AUCTIONS, APPRAISALS & SALES - A FULL SERVICE ESTATE APPRAISAL AND ESTATE LIQUIDATION COMPANY USING THE ONLINE AUCTION FORMAT, ONSITE ESTATE SALE...

Welcome to SJ K-9 Rescue Boutique, which sales benefit working dogs (K-9s) rescue & training mission located in Northeast USA. Dogs come here from as far as Georgia and anything in-betw...
Egg Harbor City, New Jersey

Our staff has been proudly providing customers all over the continent with quality furniture and antiques since 1993. We are a family-owned business that has been in operation for 3 generati...
Deerfield Street, New Jersey

WELCOME to the exciting world of Dog Mountain Antiques! We are a family owned business thirty-five years strong!! While we predominantly purchase vintage and antique military items, and old...