Buy
Account
Sellers

Julian Gage Home Collection began in 2003 and is located in Oldwick NJ. The store is located in a towering converted 19th century church offering European Antiques, Fine Furniture, Lighting...

Coyote Moon Antiques specializes in selling period lamps and lighting. We pride ourselves on providing exceptional customer service. Every week, we add fresh to the market merchandise, and...
East Sandwich, Massachusetts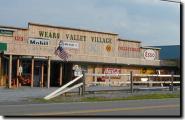 THREE Locations in Wears Valley 1- Antique Mall 1386 Wears Valley Road, Pigeon Forge, Tennessee. 2-Wears Valley Village at 3239 Wears Valley Road, Sevierville, TN. 3-Wears Valley Gallery 3...
ByGone Antiques & Collectibles is an antique co-op in Barrington, NJ. We strive to bring on-line customers a great variety of antique and collectible items. Thank you for visiting our...