Buy
Account
Sellers
We are a small business, we love anything old. My mother-in-law was a collector and refinished antiques, she was full of life and has gave me the inspiration to start this. That's how we ca...

WE WILL CONSIDER ANY REASONABLE OFFER FOR ITEMS ON OUR STOREFRONT! Our Store is a physical retail location in Morgantown,WV on the Mileground Road. We are located directly across the street ...
Morgantown, West Virginia
Castro valley, California

Julian Gage Home Collection began in 2003 and is located in Oldwick NJ. The store is located in a towering converted 19th century church offering European Antiques, Fine Furniture, Lighting...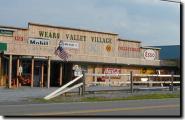 THREE Locations in Wears Valley 1- Antique Mall 1386 Wears Valley Road, Pigeon Forge, Tennessee. 2-Wears Valley Village at 3239 Wears Valley Road, Sevierville, TN. 3-Wears Valley Gallery 3...