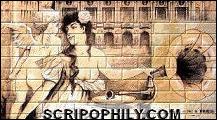 Payment Policy
Credit Cards, Wire Transfers, Paypal, Money orders, Checks - If paid by personal check, we will ship 7 days after the check has cleared" or "All payment must be made in US dollars".
Shipping Policy
We try to send everything via U.S. Global Priority Mail based upon their reliability and service. We do not mark up the rates for shipping and packaging. The rates are $4.50 for domestic U.S., $7.70 for Canada and Mexico, and $10.00 for Priority Mail destination countries in Western Europe, the Caribbean, Central and South America, the Pacific Rim, the Middle East, and Africa. If Global Priority mail doesn't go to your country, we will send the items based upon the your input. We can use DHL, Federal Express, UPS and first class mail. If you have accounts with any of these companies, let us know the account number and we will charge your delivery Account to it.
Return Policy
If you have changed your mind regarding your purchase for any reason, feel free to return your item within 7 days after receiving it for a full refund. All we ask is that you return the item in the same condition you received it.