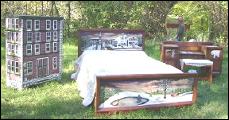 Payment Policy
I accept payments via PayPal, Personal Checks & Money Orders. INTERNATIONAL ORDERS: I will accept payment via PayPal only. I do not accept Money Orders or Personal Checks on International Orders. **No Refunds on International Orders for non delivery. Inusurance is not availlable to most foriegn countries. This refund policy is due to the high number of fraudulant claims from foriegn countries.
Shipping Policy
Shipping cost will be calculated as soon as I receive the zip code. A customer can request a shipping quote at any time. Insurance can be purchased to cover your shipment. If you do not purchase insurance, I cannot be responsible for lost or damaged shipments. **If an item is damaged in route, please contact me**
Return Policy
If an item is damaged, please do not send it back to me, the USPS will not pay a claim if the item is returned. Contact me & I will send you the Insurance receipt from the USPS. Items returned for refund must be returned within 10 days of purchase. The item returned must be in the same condition as received in order to receive a refund.