Scientific American 1880 Hot Blast Stoves for Furnaces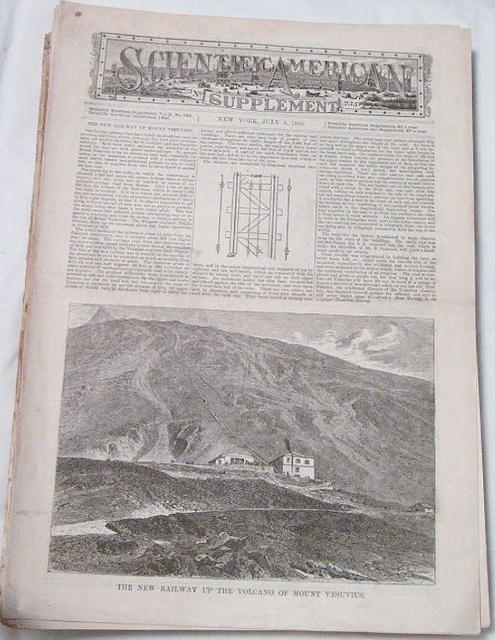 This is Scientific American, July 3, 1880. Fascinating articles, beautifully illustrated with detailed drawings, diagrams, and engravings.
Topics include: Cover article/illust. (including a map) about The New Railway Up Mount Vesuvius; The St. Gothard Tunnel; Protection of Ships from Loss by Fire and Sinking; Regenerative Stoves--A Sketch of their History and Notes on Use; Cowper's Hot-Blast Stoves (detailed illust./cutaway diagrams); Wilson's (Klotz) Safety Valve (illust.); Siemens' Improvements in Electric Railways (illust.); Difference in the ACtions of Positive and Negative Electricity; The New Electrical Middlings Purifier (illust.); Lead Poisoning; Recent Investigations on the Blood and the Pulse; Early Symptoms of Insanity; Double Lever Cement Testing Apparatus; Brain of Limulus Polyphemus (horseshoe crab); and many articles or short stories about various other topics.
Also - Correspondence, Notes and Queries, Patents, great period advertisements. Size 12"x17". Pages 3735-3750. Condition very good.
Dealer accepts: Money Order, PayPal
Shipping: $4.50
Items Similar To "Scientific American 1880 Hot Blast Stoves for Furnaces"