Scientific Amer.3/1882 New Orleans Electric Light Tower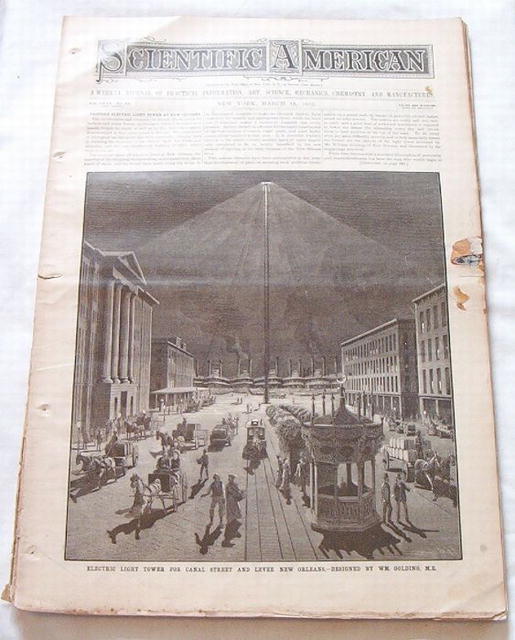 This is Scientific American, March 18, 1882. Fascinating articles, beautifully illustrated with detailed drawings, diagrams, and engravings.
Topics include: cover article, illust. about Proposed Electric Light Tower at New Orleans - illust. shows tower at Canal Street and Levee - designed by Wm. Golding; the Transformation of Bacteria; How to make paper negatives and prints; How Mosaics are made; McNaught's Side-saddle girth (illust); The Luray Caverns by Electric Light - illust shows a map of the Luray Caverns; The expanding power of ice; Whitney's Improved Rein-Holder; Place's Stock Alarm for Locomotives (w/illust); Ocean Telegraph Cable; Lancaster's Four-barreled hammerless gun (w/illust); Shaw's Fire-escape (w/illust); Two-Story Birds' Nests (w/ illust); Tidal Power; Waterproof Bricks; and many articles or short stories about various other topics.
Also - Correspondence, Notes and Queries, Patents, great period advertisements. Size 12"x17". Pages 159-174. Condition is good, front page has some small tears, discoloration/stains.
Dealer accepts: PayPal, Money Order
Shipping: $4.50
Items Similar To "Scientific Amer.3/1882 New Orleans Electric Light Tower"