Scientific Amer.1884 Yucatan Ruins/Artifacts, Bike Race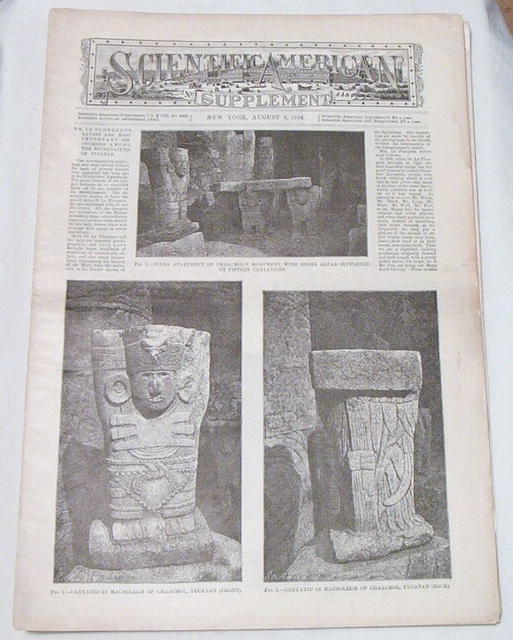 This is Scientific American Supplement #448, August 2, 1884. Fascinating articles, beautifully illustrated with detailed drawings, diagrams, and engravings.
Topics include (asterisk indicates one or more illustrations):
Cover article about Dr. Le Plongeon's Latest and Most Important Discoveries Among the Ruined Cities of Yucatan (many * of artifacts found at Chaacmol's Monument) The New Bicycle Race Course at Leipzig (* of high-wheeled bicycle racers) French Barrel-Making Machinery (*) The Armored Austrian War Frigate Tegetthoff (*) Full-page drawings of the Rudolph Academy of Arts, Prague and the New Town Hall Mentz, Herr Kreyssig, City Architect * Bronze Casting Egrot's Distilling Apparatus (*) Linseed - Its Botany and Chemistry (*) Fatty Degeneration of the Heart - its Diagnosis and Treatment (*) Manganese Steel ...and more.
and many articles or short stories about various other topics. Also - Correspondence, Notes and Queries, Patents, great period advertisements. Size 12"x17". Pages 7143-7158. Condition is good, some discoloration and small tears.
Dealer accepts: Money Order, PayPal
Shipping: $4.50
Items Similar To "Scientific Amer.1884 Yucatan Ruins/Artifacts, Bike Race"