Scientific Amer.1882 Suez Canal, Elephant Birth, Comets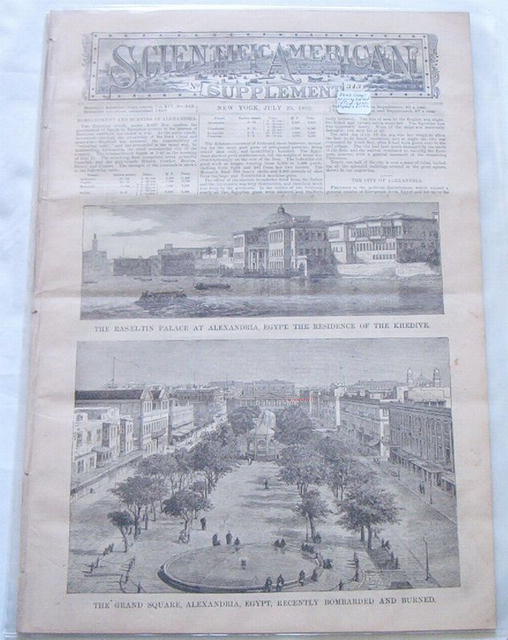 This is Scientific American Supplement #343, July 29, 1882. Fascinating articles, beautifully illustrated with detailed drawings, diagrams, and engravings.
Topics include (asterisk indicates one or more illustrations):
Cover article about Bombardment and Burning of Alexandria (*) The Suez Canal (multiple * of various views) Improved Sponge Filter (*) Logging Redwoods in California (*) Improved Winding Gear for Mines (*) A Forgotten Evolutionist (Duchesne) Roman Honors to Garibaldi (* of the Procession at Mount Tarpeia) Population of the Earth The Attitudes of Animals in Motion Plener's Improvements in Methods of Treating Emulsion (photography) The Manufacture of the Coal-Tar Dyes (*) On the Spectrum of Carbon Deodorization of Impure Spirits by Electrolysis Separation of Gallium The Birth of an Elephant (*) Comparison of Cow's Milk and Elephant's Milk Facts and Fancy Concerning Comets Natural Champagne
and many articles or short stories about various other topics. Also - Correspondence, Notes and Queries, Patents, great period advertisements. Size 12"x17". Pages 5463-5478. Condition is very good, some very small marks, small stains, a few small tears.
Dealer accepts: PayPal, Money Order
Shipping: $4.50
Items Similar To "Scientific Amer.1882 Suez Canal, Elephant Birth, Comets"