Scientific Amer. 1885 U.S. Geological Survey,Sunflowers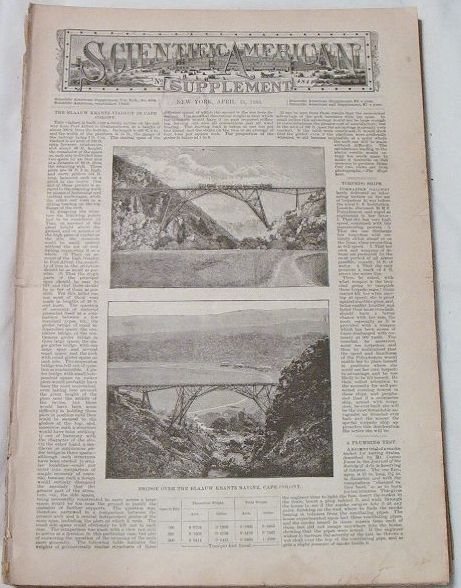 This is Scientific American, April 11, 1885. Fascinating articles, beautifully illustrated with detailed drawings, diagrams, and engravings.
Topics include: Cover article and illust. about the Blaauw Krantz Viaduct in Cape Colony; The Gas Engine, by Dugald Clerk; Rapid Construction of the Canadian Pacific Railway; The Osgood Mammoth Excavator (illust); Capstan Navigation on the Volga; Steamboat Equipment of War Vessels (illust); Critical Methods of Detecting Errors in Plane Surfaces (illust/diagrams); On the Moulding of Porcelain; A Photo-Tricycle Apparatus (illust); Astronomical Photography; Godfrey Sykes Alphabet; Sanitation in Isolated Country Houses; Sanitary Cooking; The Organization and Plan of the United States Geological Survey; The Sunflowers (several illust); Lye's Fuchsias; and many articles or short stories about various other topics.
Also - Correspondence, Notes and Queries, Patents, great period advertisements. Size 12"x17". Pages 7719-7734. Condition good, some small tears, pages separating along fold line.
Dealer accepts: Money Order, PayPal
Shipping: $4.50
Items Similar To "Scientific Amer. 1885 U.S. Geological Survey,Sunflowers"