Russ Elliott Signed Wildlife Serigraph, Tigers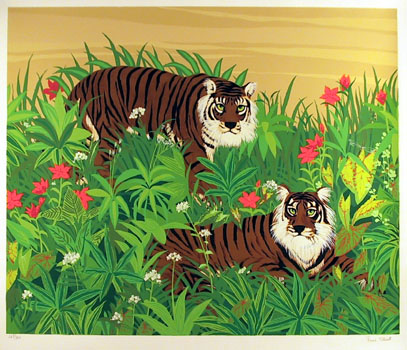 Artist: Russ Elliott
Title: Untitled
Medium: Serigraph
Edition: 300
Paper Size: 30" x 34"

As a painter I have had many clients including:
JOAN CRAWFORD for her apartment in New York, I did eight paintings and several serigraphs for her personal collection.
BEST WESTERN NYC, Irestored the lobby with new murals and paintings in a tropical style as well as the restaurant and bar.
LE CHANTILLY and NONAS on 57th street at the Galleria, I designed for noted chef David Ruggeriopaintings of Capri and the Amalfi coast. For Le Chantilly various chateaus in Francewith complete restoration of paintings and decor.
MORTIMERS New York - Frenchinspired murals giving the restaurant a country style look.
SERIBAYA RESTAURANT was designed with "fabulous fakes" of Toulouse Lautrec paintings and posters done in his style and "aged" to appear old and weathered.
LATTANZI RESTAURANT New York the ownerwanted the look of an Etruscan designed mural that was purposely aged with a brick wall background to give it an old world charm.
THE FAMOUS OLD IRVING HOTEL in Southampton, New York. A complete restoration with murals and paintings. It featured a Library transformed into a Casino complete with dice for tables and huge aged hand-painted playing cards. A croupier table with a roulette wheel with all the trimmings including the piano player as the dealer.
SANTORINI AND MYKONOS... two one-man shows for the Greek Tourist Board of these colorful islands and one of my favorite places to paintas well asPositano in Italy..
My art work has been published in "House Beautiful" and I have also been referenced in "Art Business News" and "Collectors Editions". "Interior Design Magazine" published a two-page layout on my art as well as "Decor" on my one man show at Bloomingdales where I was resident artist for nearly three years.
Joan Crawford, Dina Merrill and Cliff Robertson along with the U.S. Olympic Ski Team and Uniroyal hosted a huge show for me. I have had numerous shows for the Greek Tourist Board on Mykonos and Santorini as well as shows for St. Thomas, St. John and Antigua.
As for childhood training....I am a self taught artist.
I have been very lucky to have had many well-known celebrities either host my shows or help me with them.... Tennessee Williams, Loretta Young, Frank Gifford, and Joan Crawford who was my patron and sponsor and my best friend and helped put me on the map so to speak.
I paint mostly out of my studio in New York and my Boca Raton Gallery in Florida.
Some projects are more fun than others for example: The Greenbrier Spa in West Virgina hired me to come down and revamp their spa with murals and faux stone and all the trimmings for the arrival of President Bush. Another was Trump Tower in New York where I turned four rooms into tropical water ponds and cloud ceilings. At the Hibiscus Restaurant in Palm Beach Gardens, Florida, I painted the entire two floors as a Florida jungle with birds the bees the works.
The Minotaur in New York was a great treat to design and featured King Minos' throne room from the Island of Knosos now called Crete. One room featured Bull Dancers and the rest various parts of the palace. Three shows at the Ambassador Gallery on Worth Avenue in Palm Beach had Jack Palance who wanted me to do push ups with him....no way. Tippi Hedren of The Birds fame also was there with her paintings. She walked into the Raleigh Hotel on Miami beach and found a huge painting of Green Mermaids that I had done 37 years ago...looking good as new.
A Highlight....Mommie Dearest and she was actually---Joan Crawford Hosting a one man show for me with, Dina Merrill and Cliff Robertson in New York on Madison Avenue.
I hope there will be lots more in the future for me in the wonderful world of Art
Dealer accepts: Check, Cash, Authorize.Net, PayPal
Shipping: Negotiated with Seller
Items Similar To "Russ Elliott Signed Wildlife Serigraph, Tigers"