Romare Bearden, Unique Mono Print, Nude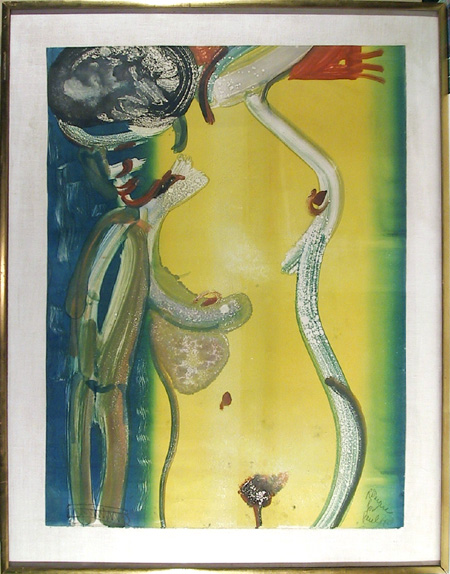 ROMARE BEARDEN (1914-1988)

Romare Bearden, painter and collage maker, fills his works with the symbols and myths of the American black experience.

Bearden was born in Charlotte, North Carolina in 1914. Soon after his birth, his family moved to New York City's Harlem. During the mid-1930s, when Bearden was a student of George Grosz at the Art Students League, he founded the "306 Group" for black artists living in Harlem.

After he served in the army during World War II, Bearden's work appeared in several well-publicized shows. During the 1940s, he combined African symbols, such as masks and "conjur women" with stylized realism. In 1950, he went to Paris and enrolled at the Sorbonne. In Paris he met James Baldwin, Constantin Brancusi and George Braque, all of whom influenced his work. He returned to New York City in 1954.

After his stay in Paris, Bearden's work became more abstract. He used oil paint almost as if it were watercolor, layering washes of indistinct shape over thickened bars of woven colors. Shapes seem to float on the surface, in part because of their softened, muted tones.

Bearden was profoundly influenced by the civil rights movement of the 1960s. During this period he used collage to express the rhythms of black music. Symbolic masks and faces float in interiors and landscapes.

In 1963, Bearden began work on the "Prevalence of Ritual" series. Prevalence of Ritual: Tidings (1973, North Carolina National Bank Corporation), a collage of cut and torn paper with polymer paint, is typical of the way he mingles abstract shapes and landscapes to evoke his memories of the customs and ceremonies of the black south.

Throughout his career, Bearden has promoted opportunities for black artists. He has served as art director of the Harlem Cultural Council, and helped organize the Cinque Gallery. In 1969, he wrote The Painter's Mind with Carl Holty.
Dealer accepts: PayPal, Check, Cash, Authorize.Net
Shipping: Negotiated with Seller
Items Similar To "Romare Bearden, Unique Mono Print, Nude"