Ringling Bros. Barnum & Bailey RED - 1969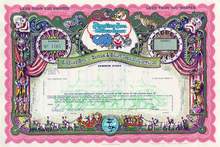 Click thumbnails for expanded view.

$295.00

---

Item Not Available
Beautifully engraved specimen certificate from the Ringling Bros. Barnum & Bailey printed in 1969. This historic document was printed by the American Banknote Company and has an ornate border around it with a vignette of of various circus animals and a clown. This item has the printed signatures of the company's president and secretary and is over 30 years old. The specimen certificate is much harder to find than the issued certificate. This certificate is widely recognized as the most beautiful and sought after post 1960 American Stock Certificate. Ringling Brothers merged with Matel Corporation in 1971. When the Ringling Shareholders were asked to trade their shares for Mattel's certificates, many refused since they didn't want to part with these beautiful certificates. The group of three is extremely hard to find and make this set very colletible.
Ringling Bros. and Barnum & Bailey® -- THE GREATEST SHOW ON EARTH®! As much a part of American culture as baseball, hot dogs, and apple pie! Some say it began on April 3, 1793, when John Bill Ricketts gave the first circus performance in Philadelphia. Some say it began on July 5, 1810, when P.T. Barnum was born in Bethel, Connecticut. Still others say it began on March 29, 1919, when the first performance of Ringling Bros. and Barnum & Bailey® was held in New York City's Madison Square Garden. But for everyone at THE GREATEST SHOW ON EARTH®, the real beginning is that moment when the lights go down and the show is just about to start. Anticipation! Expectation! And before long, everyone in the audience has begun his or her own personal history with one of the most unique entertainment forms mankind has known: the circus. But not just any circus: Ringling Bros. and Barnum & Bailey®! THE GREATEST SHOW ON EARTH® is one of a kind, and experiencing the show has been a family tradition for 130 years! There is no proof that Phineas Taylor Barnum ever said "there's a sucker born every minute." He did, however, say that "every crowd has a silver lining," and acknowledged that "the public is wiser than many imagine." In his 80 years, Barnum gave the wise public of the 19th century shameless hucksterism, peerless spectacle, and everything in between -- enough entertainment to earn the title "master showman" a dozen times over. In choosing Barnum as one of the 100 most important people of the millenium, Life magazine recently dubbed him "the patron saint of promoters." Barnum was born on July 5, 1810, in Bethel, Connecticut. The oldest of five children, he showed his flair for salesmanship at an early age, selling lottery tickets when he was just 12 years old. When he was 25, Barnum paid $1,000 to obtain Joice Heth, a woman who claimed to be 161 years old and the nurse of George Washington. "Unquestionably the most astonishing and interesting curiosity in the world!" read one of Barnum's handbills. Barnum exhibited her in New York and New England, raking in about $1,500 per week. In 1841, Barnum purchased Scudder's American Museum on Broadway in New York City. He exhibited "500,000 natural and artificial curiosities from every corner of the globe," and kept traffic moving through the museum with a sign that read, "This way to the egress" -- "egress" was another word for exit, and Barnum's patrons would have to pay another quarter to reenter the Museum! A year later, he exhibited "The Feejee Mermaid," ostensibly an embalmed mermaid purchased near Calcutta by a Boston seaman. Belief in the mermaid's authenticity was mixed, but nobody doubted Barnum's ability to capture the imagination of the public. Later in 1842, Barnum hired Charles Stratton, who became world-famous as General Tom Thumb. The two became close friends, and so successsful that, in 1844, they had an audience in England with Queen Victoria. While Barnum's name will forever be connected with the great American circus, it is often said that his greatest success came in 1850, when he presented European opera star Jenny Lind to the American public. "The Swedish Nightingale" sang 95 concerts for Barnum. In 1854, Barnum wrote and published his autobiography: The Life Of P.T. Barnum, Written By Himself. Sixteen years later, his association with the entertainment form that still bears his name would begin. Following the death of P.T. Barnum in 1891, James A. Bailey carried the Barnum & Bailey Circus to new heights of popularity. THE GREATEST SHOW ON EARTH® rode the rails on 85 railroad cars, employed more than 1,000 people, and consisted of five rings and stages, plus the largest traveling menagerie anywhere! Meanwhile, as the 19th century was coming to a close, the Ringling brothers of Baraboo, Wisconsin, were building a reputation of their own. Beginning their tented circus in 1884, Alf T. Ringling, Al Ringling, Charles Ringling, John Ringling, and Otto Ringling soon became known as Kings Of The Circus World. A sixth brother, Henry Ringling, joined the show in 1886. By 1887, the Ringling brothers' show was growing. The official title was Ringling Bros. United Monster Shows, Great Double Circus, Royal European Menagerie, Museum, Caravan, and Congress of Trained Animals. In 1889 the seventh Ringling brother, A.G. "Gus" Ringling, joined the show, which now had a seating capacity of about 4,000 as it played cities and towns in Wisconsin and Illinois. Admission was 50 cents for adults and 25 cents for children. The year also marked a first for the Ringlings, as they took to the rails, becoming the 12th such circus to do so. As time went on, the Ringlings' show grew bigger, and a series of business deals enabled them to absorb some of their competition. In 1905, James A. Bailey sold the Ringlings 50 percent interest in his Forepaugh-Sells Bros. Circus; Bailey died in the spring of 1906, and the Ringlings subsequently purchased the other 50 percent from his widow for $100,000. In 1907, the Ringlings finally purchased their largest
Fairfax, Virginia
Seller Since 1995

---
Payments Accepted:
Item Details:
Reference #
rinbrosbarba1
Category
Coins & Currency
Dimensions
Width: 0 inch
Height: 0 inch
Depth: 0 inch
Weight: 0 pound
Condition
See Description
Items Similar To "Ringling Bros. Barnum & Bailey RED - 1969"