Remo Farruggio S/N Lithograph, Past & Present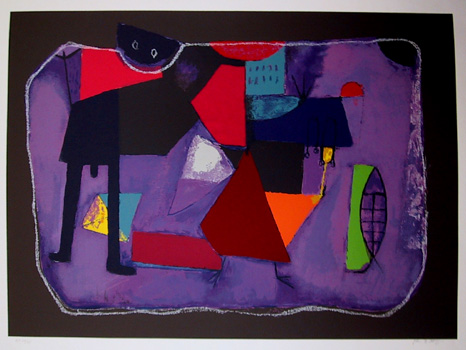 Artist: Remo Farruggio
Title: Past & Present
Year: Circa 1979
Medium: Lithograph, signed and numbered in pencil
Edition: 300
Paper Size: 32" x 40"


Remo Farruggio is first a colorist and then a painter. For it is the color that inspires the painting. It then takes form with its fundamental life and vitality stemming from an inner fountain of inspiration which comes from a primary source. In the case of Farruggio it is the place of his birth, Italy, to which he has returned time and again throughout his life. Better yet, Sicily, and the lovely city of Palermo, filled with Baroque buildings and palaces, enough to create artists on the spot, if one is not already so talented, as in the case of Remo Farruggio. When one has seen the atmospheric changes, the luminous light, and the intensities of tonalities one finds in Siciliy, it is then easy to understand why Farruggio is the magnificent colorist he is. Besides the light, the land itself, with its mountainous terrains and lush valleys, provides an inspiration for all shapes and forms which again have inspired the artist. His sensitivity adds another dimension to his work. Farruggio has the ability to take all this and orchestrate them into a final concept, creating in his work a symphony of mood and enchantment. From 1957 through 1967, he was involved with painting nudes in heavy rounded forms, sensuously posing them to reveal not only the figure but a blending of form, color, and an inner quality of repose, creating delectations in paint. In some the edges were purposely blurred, giving an extra impression of softness and sexuality. There is a Baroqueness about them, which easily relate to the rounded angels and beautifully formed Ailanthis leaves which decorate so many of the buildings found in Sicily. Some of his paintings during this period played with Mire like shapes, exuding joy and caprice, while others were of abstract landscapes, deserts and mountains, usually moving from a focal point of interest, either through a particular form or color. His still-lifes were magnificent arrangements of cubist shapes, again treated to the living vitality of his intense tonalities.

In this concordant discord Farruggio finds time after time the dimension that is most appropriate for him. It does not matter if from the outside he looks inconsistent or ready to plunge into risky experiments: it simply means that the conflict of feelings suggested to him. this or that way of expressing himself, are 'always' within the gamut of his own personality If we consider his earlier works and compare them to his later ones, we find that they stem from a common deep root, and not only because they come from the same author; the organicity of masses and the suppleness of line give clear tones, varied only by his creative impulses.

Nobody can anticipate what would have become of Farruggio if he had lived only in his Native place. But at this point we can say confidently what his personality is, as a result of different themes and experiences in faraway lands. Nature preserved in him the lyric world of his birth and his mind helped him not to betray it. He came back to Italy many times, but he did not have to change his tonal values; they were already deeply rooted in him. Eventually he agreed that one's real country is the land where there are people like himself. Stendhal says so, in one of his sensitive maxims, hidden between the lines of a description. And anyone who from his meetings and affinities brought back his own justification for existing, can testify to this truth.
Dealer accepts: PayPal, Check, Cash, Authorize.Net
Shipping: Negotiated with Seller
Items Similar To "Remo Farruggio S/N Lithograph, Past & Present"