Rare 1992 Limited Edition Lladro "Peter Pan"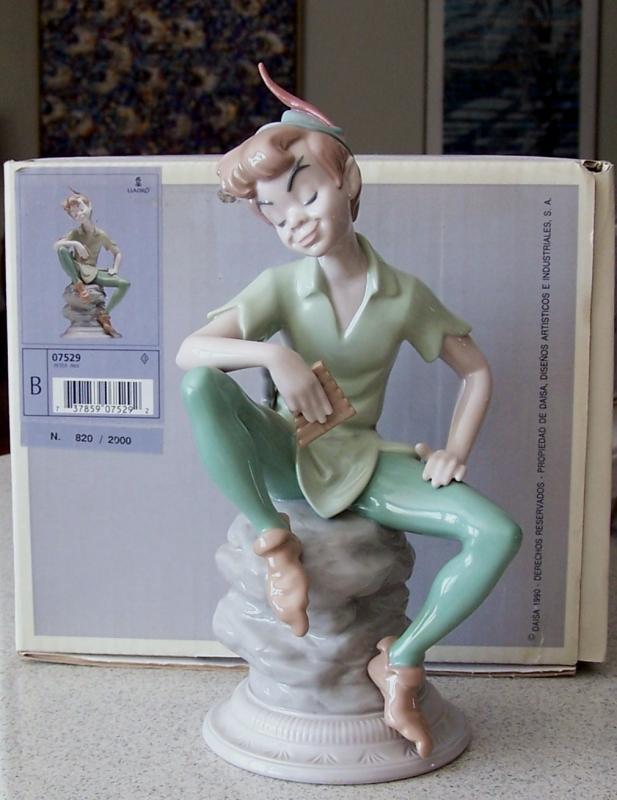 Lladro item #01007529, issued 1993, retired 1994.
The Lladro figurine "Peter Pan" depicts the title character of the charming Disney movie in a beautiful glazed finish. This piece is number 701 out of a Limited Edition run of 2000, which sold out at its $400 issue price. This piece was signed on September 18 at the 1993 Disneyanna Convention by the late Hugh Robinson, former chief executive of Lladro USA and Director of the Lladro Collector's Society. Wonderfully sculpted by Francisco Polope, Peter wistfully muses with pan flute in hand, sitting approximately 9.5 inches in height. This prized collectible is in perfect condition, and we intend to keep him that way: "Peter Pan" will be carefully shipped along with his original box. Owning "Peter Pan" will enhance your Lladro or Disney collection, and should serve as a source of memorable conversations for many years to come.
Special offer: Purchase "Peter Pan" along with his precious companion "Tinkerbell" (see additional listings) and receive a 10% discount plus free shipping for both.
Dealer accepts: Check
Shipping: Negotiated with Seller