RAPH KINER Store Window Advertising Poster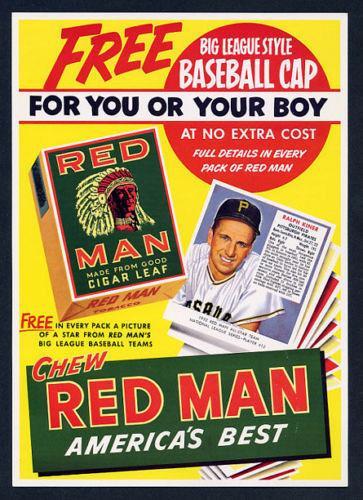 Ralph Kiner Redman Tobacco Store Window Poster. Ralph from Santa Rita, New Mexico. His Career began with the Pittsburg Pirates in 1946 after his hitch in the military during the second world war, he retired in 1955 because of a recurring back injury he received when in the military. Few know this about Ralph but he broke a record held by Babe Ruth by leading the league in Home Runs seven consecutive seasons, his first seven believe it or not, 1946 thru 1952 and possibly could have become the greatest Home Run hitter of all time if the old back injury he received during the war had not flared up and ended his career early. This poster measures 11.5" X 15" and is quality, made with heavy card stock material, not a paper thin poster. Redman posters were made to display in store windows during the early 1950's advertising a free baseball cap for your son, with the purchase of a pouch of chewing tobacco. Instructions were to, send in the bottom tab off the baseball card that came with every package of Redman. I bought some of these out of an old warehouse around ten years ago and can not say if there from the original printing. I will say the color and clarity on this one is perfect and will greatly add to the decor of any sports related room or business. Satisfaction Guaranteed, if you are not satisfied, just return it within ten days and we will refund your money plus shipping cost. $4.85 SHIPPING COST IN THE CONTINENTAL 48 US STATES ONLY.
Pay with Pay Pal or use most major credit cards to pay securely through Pay Pal.
We also accept Personal Checks Bank Checks and Money Orders.
We Combine Shipping and Ship with Free delivery confirmation ... So be sure to check out our other interesting items.
Dealer accepts: Check, Money Order, PayPal
Shipping: $4.85
Items Similar To "RAPH KINER Store Window Advertising Poster"