Pullman's Palace Car Company 1880's - Signed by Union General Horace Porter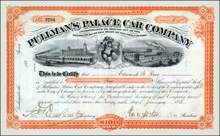 Click thumbnails for expanded view.
Beautifully engraved certificate from the Pullmans Palace Car Company issued in 1880's. This historic document has an ornate border around it with a vignette of a cherub holding fruit, a train car, and an old manufacturing complex. This item is hand signed by the Company's President (Horace Porter) and Secretary and is over 120 years old.
Certificate Vignette Horace Porter was born April 15, 1837 in Huntington, PA (United States of America), the son of David Rittenhouse Porter (1788-1867), a two time governor of the State of Pennsylvania. President Abraham Lincoln was the granduncle-in-law of David R. Porter. Horace Porter's grandfather distinguished himself as a U. S. Revolutionary War general (1776). Horace Porter served as a Captain in the Union Army, and as an aide-de-camp to General Ulysses S. Grant during the U.S. Civil War (1864-65). Porter accompanied Grant into battle at Cold Harbor, the Wilderness, and the Petersburg campaign. Throughout the war, Porter kept extensive notes of the campaigns, and he was present at General Lee's surrender at McLean's house on April 9, 1865. Later, his first-hand accounts and analyses were published as "Campaigning with Grant" by General Horace Porter.
The Battle of Appomattox Court House (April 9, 1865) General Lee surrendered to General Grant Horace Porter is the forth standing person from right to left Porter's military career led him to the rank of General, and he was awarded the Medal of Honor in the name of the President of the United States of America on July 8, 1902. Citation: "While acting as a volunteer aide, at a critical moment when the lines were broken, rallied enough fugitives to hold the ground under heavy fire long enough to effect the escape of wagon trains and batteries." From 1897 to 1905 he served as the U.S. Ambassador to France. General Porter died May 25, 1921 and he is buried at the Old First Methodist Churchyard in West Long Branch, NJ - United States of America. Horace Porter's daughter, Elsie Porter, married Dr. Edwin Mende and moved to Switzerland. The Mende-Porter couple had several children. Their daughter, Erna, married Pierre Musy, the son of Dr. Jean-Marie Musy, ex-President of Switzerland. Dinner to Horace Porter By Mark Twain Delivered at a dinner in honor of Gen. Horace Porter, Ambassador to France, at the Lotos Club, June 17, 1902. Frank R. Lawrence, president of the Club, announced at the beginning of the event that there would be no formal speeches, joking that Porter might have lost his ability to speak in English after his long residence abroad. Speeches were nonetheless made by the guest of honor, Major Gen. John R. Brooke, Rear Admiral Albert S. Barker, William H. McElroy, John S. Wise, and George H. Daniels, and Mark Twain. Major Gen. Brooke used the occasion to defend the U.S. army against criticism of its operations in the Philippines. "Our army in the Philippines has been attacked," he said, "and from that attack it has come out without a blemish to its blades or a stain on its flag.... They need no defense, but can one refrain from defending them when they have been thus unjustly attacked?" His comments may have been directed at Twain whose satirical essay "A Defence of General Funston" was published in the May 1902 issue of the North American Review. The chairman has told the truth. He hasn't had much practice, but he did it this time. I did say that I should be very glad indeed to say something in case anybody preceding me should furnish me a text. That anybody preceding me should furnish you statistics that need to be corrected, or facts of any kind that seemed feasible things, did not occur to me. It is my line to correct them. I have stood for truth all my life. I have been a sort of symbol of veracity, and it has not always been recognized. But there have been things said tonight which furnish me here and there a text, and they are pleasing texts. I don't see that I have any real fault to find with anything that I have heard. I didn't quite like to hear men whose heads are still brown, like the chairman's, and black, like the guest's, talk too much of people who have been in this club longer than they have, meaning me. And to hear them calling your distinct attention to the stuff which I wear upon my head and which has been tanned to its present tone by hard work in the interest of civilization! I have first to correct an opinion of the guest of the evening, as everybody can have an opinion. Compliments are paid to him in a gracious way, and in a truthful and righteous way, the way in which Mr. Lawrence has turned these compliments, when he speaks of this brilliant bird of passage from the coal-hole of the Lotos Club. I like to hear him pay these compliments. I like to see the chairman show off what he can do with language. And I like to see him throw out his culture and his knowledge in this mysterious way, and talk about the date of the battle of Bunker Hill just as if he was there and knew all about it. He throws out this historical information with a scandalous air of having it always on tap. He has been studying a cyclopedia today. There was a man here who knew the date of the battle of Bunker Hill. I don't take these random historians at par. I shall look myself when I get home, and see if they 're right. Why, General Porter stands up here, and he also throws out very nice things, and sometimes they suggest Wagner's music from the pen and point of view of Bill Nye. Bill Nye said that he had heard that Wagner's music was better than it sounded. You can take what General Porter says in the same way. Now he has been abroad over five years, and has been working in my
Fairfax, Virginia
Seller Since 1995

---
Payments Accepted:
Item Details:
Reference #
pulpalcarcom3
Category
Coins & Currency
Dimensions
Width: 0 inch
Height: 0 inch
Depth: 0 inch
Weight: 0 pound
Condition
See Description
Items Similar To "Pullman's Palace Car Company 1880's - Signed by Union General Horace Porter"