Palladio's Architecture and Its Influence: A Photographic Guide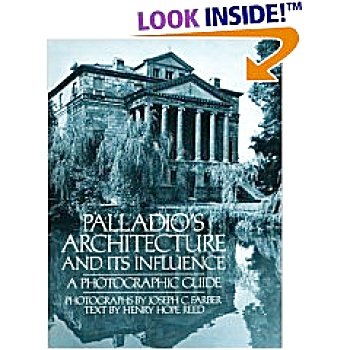 $12.00
Quantity available: 1

This book includes a brief biography on Andrea Palladio with insight on his _The Four Books of Architecture. It also mentions the introduction that many Americans have to Palladian architecture-Thomas Jefferson. The scope of his influence on Jefferson is evident simply by looking at Monticello and the University of Virginia.

The authors divide Palladio's works into three categories: villas, palaces and churches. They also include Palladian designs in England, Scotland and America. Each design is profiled with pictures and given roughly 2 - 4 paragraphs of description. The information provided is easy to read but not so simplistic that it seems superficial. The photographs are excellent and often show fascinating detail. Unfortunately though, all photos are b/w and sometimes color would have been helpful. That reason and the basic nature of the text caused me to rate this at four stars rather than five. Experts and scholars should look elsewhere unless they are only after the illustrations. For students and casual observers, this book is a fantastic way to begin learning about Palladio.








Items Similar To "Palladio's Architecture and Its Influence: A Photographic Guide"
Dealer accepts: PayPal
Shipping: Negotiated with Seller