Orange Crush Bottling Company 1923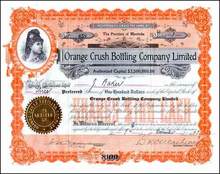 Click thumbnails for expanded view.

Beautifully engraved RARE certificate from the Orange Crush Bottling Company issued in 1923. This historic document has an ornate border around it with a vignette of an allegorical woman. This item is hand signed by the company's vice-president and secretary/treasurer and is over 80 years old. We have not seen this certificate before.
From its origins over 200 years ago, Cadbury Schweppes is now a major competitor in key beverages markets such as the US, and the fourth largest supplier of confectionery in the world. Here are a few key milestones over the last 100 years or so which have brought us to this position. 1885 Formula for Dr Pepper invented the oldest non-cola soft drink on the US market today. 1897 Cadbury manufactures its first milk chocolate, and Schweppes Ltd floated as a public company. 1899 Cadbury Brothers is incorporated as a limited company. Bournville factory now employs 2,600 people. 1904 Canada Dry, The Champagne of Ginger Ales, introduced to Canada in 1904 by a Toronto pharmacist and chemist. 1905 Cadbury's Dairy Milk is introduced with a new recipe using fresh milk. 1906- ORANGE CRUSH was introduced by J M Thompson of Chicago. 1907 Trebor sugar confectionery company founded in London. Originally called Robertson & Woodcock, it took its name from the house which the company used as its headquarters. It spelled the name of one the founders backwards (Robert = Trebor). 1915 Cadbury's Milk Tray introduced. 1918 Launch of Bassett's Jelly Babies, known as Peace Babies to celebrate the end of World War One. 1919 Cadbury Brothers merged with JS Fry & Sons of Bristol, whose product range (e.g. Turkish Delight) complemented that of Cadbury's. In the US Roy Allen first served his root beer, later known as A&W. 1920 Cadbury's Flake introduced. 1923 Schweppes (Colonial and Foreign) Ltd established. Cadbury's Creme Eggs launched. 1929 7 UP launched in the US. Bertie Bassett character created in the UK. 1937 Trebor Extra Strong Mints launched in the UK. 1938 Launch of Cadbury's Roses. 1940 Dr Pepper company persuades the US government to exclude it from wartime sugar rationing. 1944 Trebor Murray Mints launched in the UK. 1946 Schweppervescence first advertised, with launch of Schweppshire campaign five years later. 1953 Schweppes launched in the US. Canada Dry introduces soft drinks cans. 1957 Schweppes Bitter Lemon launched and Roses Lime Juice acquired. 1963 US District Court rules that Dr Pepper is not a cola. As a carbonated soft drink made from a combination of 23 fruit flavours it has a unique, indefinable taste. 1965 Schweppes Slimline range launched. 1965 -73 Schhh you-know-who" advertising campaigns. 1969 Cadbury and Schweppes merge. 1982 Cadbury Schweppes acquires the Duffy-Mott Company, later known as Mott's, one of the largest apple processors in the world. 1983 Schweppes celebrates its bicentenary. 1986 Cadbury Schweppes acquires a 30% share of Dr Pepper. 1988 Dr Pepper and Seven Up merge. Manufacture of confectionery brands licensed in the US to Hershey. 1989 Acquisition of Crush International. Bassett and Trebor acquired in the UK and merged in 1990, the group's first major development in sugar confectionery. 1992 Launch of Cadbury's TimeOut, later rolled out to 16 countries. 1993 A&W root beer and soft drinks acquired in the US. Acquire 80% share of Stani, sugar confectionery company in Argentina and begin construction of greenfield confectionery factories in China and Poland. 1995 Acquisition of Dr Pepper/Seven Up brings Cadbury Schweppes no 3 position in the US, the world's largest soft drinks market. Plans announced to build a greenfield confectionery factory in Russia. 1996 Leadership in Canadian confectionery market achieved through acquisition of Neilson Cadbury, together with Allan Candy, bought the previous year. 1997 Disposal of Coca-Cola & Schweppes joint venture in the UK for £622.5 million. Cadbury's Yowie introduced in Australia, and brought to the UK market two years later. No 1 position in Egypt, the Middle East and North African achieved through acquisition of Bim Bim, Egypt's largest confectionery company. Acquisition of La Pie Qui Chante brings No 3 position in French confectionery market. 1998 Strengthen route to market in the US by acquiring two leading independent bottlers, through a partnership, to form The American Bottling Company. Also acquire Poland's leading chocolate company, Wedel. 1999 Sold soft drinks brands in 160 countries for nearly $1 billion, retaining a No 3 presence in the all-important US market and also significant beverage operations in Europe and Australia. Cadbury's Dairy Milk now the largest chocolate confectionery brand in the world. Cadbury Schweppes is a leading contender in the US soft drinks market, the biggest in the world at $55 billion in annual sales. 2000 Acquired Kraft Foods' chewing gum and candy business in France, complementing Cadbury Schweppes' existing French chocolate and sugar confectionery business. Acquired the Snapple Beverage Group for an enterprise value of $1,450 million. Acquired soft drink brand Mauna La'i, Hawaiian tropical juice drink. Acquired Wuxi-Leaf Confectionery Company Ltd, a manufacturer of sugar free and low sugar gum in China. Acquired the Spring Valley Juice and Wave UHT flavoured milk brand names in Australia. Dr Pepper/Seven Up entered into an agreement to buy the Slush Puppie Corporation in the US.
Fairfax, Virginia
Seller Since 1995

---
Payments Accepted:
Item Details:
Category
Coins & Currency
Dimensions
Width: 0 inch
Height: 0 inch
Depth: 0 inch
Weight: 0 pound
Condition
See Description
Items Similar To "Orange Crush Bottling Company 1923"