Nevada Boy Goldfield Mining Company - signed by Tasker Oddie (Nevada Governer and Senator)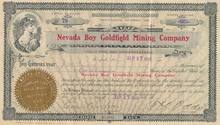 Click thumbnails for expanded view.

Beautifully engraved Certificate from the famous Nevada Boy Goldfield Mining Company issued in 1907 and incorporated in South Dakota. This historic document was printed by John Partridge and has an ornate border around it with a vignette of a women. This item is hand signed by the company's president,Tasker Oddie, and is over 93 years old. TASKER LOWNDES ODDIE 1911-1914 Tasker Oddie was born in Brooklyn, New York on October 24, 1870 and came to Nevada to look after the business interests of his New York employer, the prominent and wealthy Stokes family. He became a member of the Nevada Bar in 1898 and served as district attorney for Nye County. During the Tonopah mining boom at the turn of the century he became the manager of the Tonopah Mining Company. After his term as governor, Oddie was elected to the U.S. Senate in 1920 and re-elected in 1926. He died in San Francisco on February 18, 1950. Tonopah district is perhaps the only mining district in Nevada that has been a consistent producer of silver and gold since it was discovered in May, 1900, by Jim Butler. It is estimated that its mines have produced over $250,000,000.00 and paid approximately $35, 000,000 in dividends to their owners. Many fantastic stories are related of Jim Butler's discovery of the rich ore deposits on what is now Mount Oddie, named for former Senator Tasker Oddie. The story, however, as related by Butler some years before his death, involves a search one morning in May, 1900, for a burro, which had wandered off up the mountainside the night before. Butler related that as he searched for the recalcitrant animal he picked up a rock near a ledge, which was highly mineralized. He took the sample to an assayer in Klondyke, a settlement a few miles south of what is now Tonopah, and had it assayed. The assayer pronounced it worthless. Butler, however, kept some of the rock and showed it to his wife, who sent a sample to Oddie, then located at Austin, Nevada. Oddie had the ore assayed and the report came back that the sample ran 604 oz, in silver, and $206.00 in gold, per ton. Butler and his wife set out to locate the claim, traveling by the way of Klondyke where they forced the assayer who pronounced the rock worthless, to admit that he had not made a careful analysis of the sample, but agreed to make a further assay of a quantity of the same ore Butler had previously left at his office. The result tallied very closely with the assay made in Austin. The Butlers left at once for the mountains, and were hardly out of sight when the Klondyke assayer and a party of his friends left in hasty pursuit. They lost the trail, however, with the approach of night, and when they finally arrived upon the scene the next morning, Butler had already staked out all the ground he wanted. The first location was named the "Desert Queen," the next the "Burro," while the third, named by Mrs. Butler, "The Mizpah," proved to be the richest mine of all. As soon as their location work was completed, Butler went to Belmont where he met Tasker Oddie and Cal Brougher, who were included in a partnership, and development work was started. Two tons of ore were taken from a shallow shaft, which they took to Belmont and from there by team 100 miles to the railroad, from which point it was shipped to San Francisco. Six hundred dollars was realized from this shipment, with which a few men were hired and active development of the claims started. Oddie was made manager, and eventually became general manager of the property when the mine was finally sold to the Tonopah Mining Co., a Philadelphia concern. When the news of the discovery became known a wild rush to the new district began. A town of tents and shacks appeared in a short time and the trails from Austin, Eureka, Ely, and west from California were black with the hurrying throng. Excitement ran high, every available foot of ground in the district was staked; while in the new settlement a motley mob of adventurous men and a few lone women milled through the hastily laid out main street, gambling on newly located claims, and indulging in orgies which are ordinarily practiced in localities where law and order had not been established. Gradually, however, the excitement subsided as the newcomers realized that the newly found metal was confined to practically the one locality, and those who remained settled down to the task of making the most of business opportunities. Order was created out of chaos, in time the canvas tents gave way to neat frame dwellings, the roughly erected business shacks were replaced by larger frame buildings, the angling main street became a neatly laid out thoroughfare, from which radiated well ordered side streets, flanked by neat dwellings. Oddie and Butler took a fortune from the Mizpah, as did many lessees. In one single year this mine produced $4,000,000.00; by 1907 over $12,000,000.00 had been taken out, at which time 1500 miners were at work, and nearly 7,000 people were residents of the camp. Much of the glamour, the picturesqueness and the romance of the roaring sixties had disappeared when Tonopah came into existence, modern methods of mining and more progressive modes of living had been introduced, besides which, a higher type of education was sweeping the country than had been common when Comstock, Aurora, Treasure Hill and Austin ruled the metal world in the late fifties and middle sixties. However, it is not to be inferred that Tonopah was free from the rougher element and that the moral atmosphere of the camp was what it should be. Gambling was wide open, and thousands of dollars were lost daily in various games of chance. The main street of the camp was made up largely of saloons and gambling dens, frequented by both men and women, where the stakes ran high. Dance halls, of which there were several, were open day and night, infested with scores of adventuresses, lured by the glitter of gold, which found its way into the purses of these painted women, in almost unbelievable amounts. A motley gathering was always prese
Fairfax, Virginia
Seller Since 1995

---
Payments Accepted:
Item Details:
Category
Coins & Currency
Dimensions
Width: 0 inch
Height: 0 inch
Depth: 0 inch
Weight: 0 pound
Condition
See Description
Items Similar To "Nevada Boy Goldfield Mining Company - signed by Tasker Oddie (Nevada Governer and Senator)"