Muhammad Ali Stock Certificate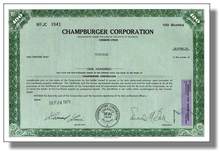 Click thumbnails for expanded view.

Beautifully engraved SCARCE certificate from the Champburger Corporation issued prior to 1972. This historic document was printed by the Security-Columbian Banknote Company and has an ornate border around it. This item has the printed signatures of the company's president (Edward M. Gale) and secretary (Leonard Lurie) and is over 32 years old. We have not seen many of these certificates around.
The Champ! The company was named after the famous boxer, Muhammad Ali who was known as " The Champ". Ali, received six percent of the million-dollar Chamburger Corporation's stock which sold publicly at $5 a share for lending his well-known, if somewhat controversial 'name and image (at the time)' to the venture. In addition, he will received royalties of one per cent of the firm's annual net sales. Unfortunately for the Champ, the company went went down for the count and went belly up in 1972. Champburger was mentioned in the latest movie about Muhammad Ali. Boxer Muhammad Ali first won the heavyweight world championship by defeating Sonny Liston in 1964 (while still known as Cassius Clay), then became an international celebrity with his brash, cocky and ever-quotable personality. Throughout this time, Ali was shrouded in controversies arising from his involvement with Nation of Islam. He had another battle to face the following year. This time outside the ring. The act had been staged two years ago, when Ali was called to serve for the US armed forces. He had failed to pass the mental aptitude test at a military induction center in Florida and classified 1-Y, meaning unfit for service. But later on, the US armed forces required more soldiers for the ongoing Vietnam War and the pass-percentage marks for the soldier's test had been dropped to 15. All of a sudden, Ali was classified 1-A, meaning fit for service. On April 28, 1967, his name was announced at the induction center on San Jacinto Street, Houston; 'Cassius Clay – Army.' Ali refused to co-operate with the draft and did not join the armed forces saying he was a member of Nation of Islam, which was a pacifist organization. When asked by journalists, he simply replied, "I ain't got no quarrel with them Viet Congs. No Viet Cong ever called me N......". The reaction was quick. The so-called patriotic fans and sports journalists precipitated a tremendous outcry against him. Ali was charged for violating the Selective Service Act by the US government and was sentenced to five years imprisonment and fined $1,00,000. On appeal, he could save himself from the jail but the worst thing that happened to him was his exile from the boxing world. The World Boxing Association stripped him of his title and boxing license. Moreover, his passport was impounded by the government to ensure that he did not box abroad. Reflecting upon this period Sports Illustrated published, "The noise became a din, the drumbeats of holy war. TV and radio commentators, little old ladies… bookmakers, and parish priests, armchair strategists at the Pentagon and politicians all over the place joined in a crescendo of get-Cassius clamer." Ali, who had earned millions in the ring, was soon in financial trouble. The helpless, but not hopeless guy opened his heart in an interview to Edwin Shrake for Sports Illustrated : "I'm giving up my title, my wealth, may be my future. Many great men have been tested for their religious beliefs. If I pass this test, I'll come out stronger than ever." Ali was no longer the titleholder. But to the true boxing fans, he was still the champ. Ali had no fights for three years. It was a big loss for him as he was at the peak of his career then. Meanwhile, he married 17-year-old, Belinda Boyd, a Black Muslim from Chicago. He had first met Boyd when he visited her school in 1961. After his second marriage, Ali had to look for other sources of income, as he wasn't allowed to box. Soon he found a way. He started giving speeches at colleges and universities. In most of the lectures, he would explain his vision regarding war or segregation of Blacks. His lectures would attract huge audiences. Soon he became the third most charismatic speaker in America, the first two being – US Senators Edmund Muskie and Edward Kennedy. Although, the income from his lectures fell short of his legal fees, he also tried acting and gave public appearances. He acted as a leading actor in the Broadway Musical Buck White. Moreover, a computer bout between him and Rocky Marciano and a documentation of his life provided enough financial support for Ali. The only unfortunate thing that happened was his failure in the venture of 'Champburger' chain of fast food restaurants. Stripped of his crown in for refusing induction into the Army, he successfully appealed criminal charges at the Supreme Court, then gradually fought his way back to the title by beating George Foreman in a 1974 Zaire bout. After losing to Leon Spinks in 1978, he became the first man in history to regain the championship three times by defeating the same opponent later that same year, then retired from the sport. boxers. boxing. Ali, Muhammad. sports. athletics. athletes. prizefighters. heavyweights. heavyweight world champions. Muhammad Ali. speaking at press conference with handlers boxers. boxing. Ali, Muhammad. sports. athletics. athletes. prizefighters. heavyweights. heavyweight world champions.
Fairfax, Virginia
Seller Since 1995

---
Payments Accepted:
Item Details:
Category
Coins & Currency
Dimensions
Width: 0 inch
Height: 0 inch
Depth: 0 inch
Weight: 0 pound
Condition
See Description
Items Similar To "Muhammad Ali Stock Certificate"