Marion McClanahan, S/N Lithograph,1979, Boat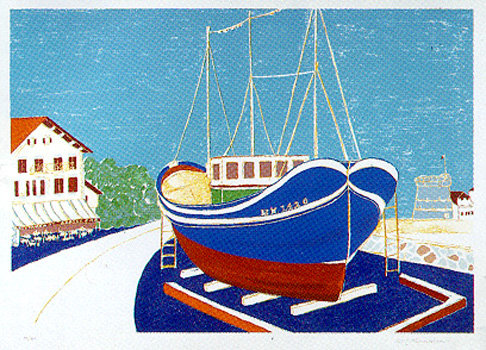 Artist: McClanahan, Marion
Title: Dry Dock
Year: 1979
Medium: Lithograph, signed and numbered in pencil
Edition: 300
Paper Size: 30" x 39"

MARION McCLANAHAN

Marion McClanahan's life has been one of contrast, the range of dramatic influences that have passed through her life have invested her personality with a mature grace. Born in Tulsa, Oklahoma she travelled extensively throughout the Southwest and through North America and Europe with her family. Her paintings recall many of her early impressions of Michigan, Kentucky and Paris.

The subjects she chooses are as varied as her life. They are ordinary enough scenes to begin with-a view from the window of her Paris studio, or a commonplace motel on Cape Cod; shacks; beaches; models casually posed in a studio. She comes to them, says Knox Martin, with "elegance, grace, sensitivity, giving to the most insignificant things a local habitation and a name. There are no insignificant subjects-all is Wonder."

The poet Barbara Guest sees all the objects in these paintings bathed in an air which is not simply the air we breathe but the fruit of a free imagination. "These scenes are the work of an eye full of wonders."

There is nothing dreamy or vague about this eye. It is sharp and clear and usually capable of surprises. She filters light and substance into poetically seen experiences. The paintings appear refreshingly relaxed. McClanahan's artistic approach confirms a tree flowing but firmly disciplined line which marks her work. The very intense personal vision presents a challenge to the viewer. All her images preserve the spontaneity and freshness of the original direct vision.

McClanahan's paintings are so bright and lively,-so "sparkling with sunlight, warmth and joy," as David Shirey said in a New York Times review of her show at the Graham Gallery in 1972-that it is easy to some unexpected treat to be found in a corner. Tom Prideaux, writing about some of her softer more atmospheric paintings, remarked of one of them, "a memorable meeting between bland sand dunes and mild blue skies. Strictly speaking, these are pastel shades. But there is no pastel feeling in these paintings, or, if there is, it is pastel with a sting, like a baby-blue Portuguese man-of-war on a pale beige beach."
Dealer accepts: PayPal, Authorize.Net, Check, Cash
Shipping: Negotiated with Seller
Items Similar To "Marion McClanahan, S/N Lithograph,1979, Boat"