Lot of 10 - 1885 Trade Dollar Silver Coins - Replica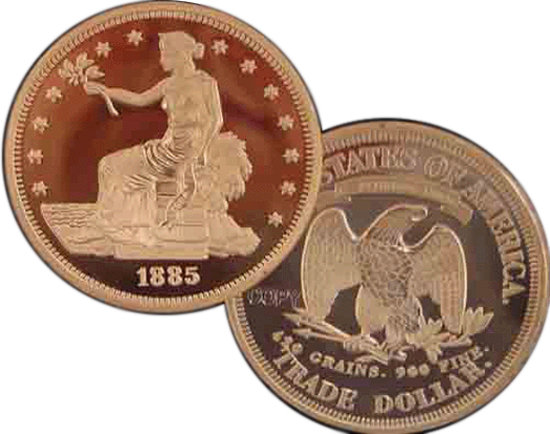 * MINT LOT OF TEN (10) 1885 TRADE DOLLAR BRILLIANT GALLERY PROOF SILVER REPLICA COINS * THESE BEAUTIFUL PROOFS ARE EXACT SIZE JUST LIKE ORIGINAL * .999 pure silver layered * 38mm diameter * Individually struck proof coin. 1885-P TRADE DOLLAR HISTORY: United States Trade Dollars were minted between 1873 and 1885. This coin was originally issued for circulation in the Orient to compete with United States Dollar sized coins of other countries. Many of the Trade Dollars circulated in the Orient were counter stamped with Asian characters, which were known as 'Chop Marks'. These coins were legal tender in the United States. However, after silver prices started to decline in the U.S. the United States Treasury limited coinage to export demand only, resulting in a significant decrease in Trade Dollar mintage. In the last few years of mintage (1879 - 1885) only a few thousand trade dollars were minted, with all of these consisting of proofs. In 1885 only 5 proof coins were minted. In 1887 the law authorizing the minting of Trade Dollars was repealed, and the Treasury redeemed all un-mutilated Trade Dollars. These commemorative coins come in airtight removable plastic protectors. All our replica coins, reproduction coins, or copy coins comply with the US Hobby Protection Act - 15USC-2101 regarding the sale and manufacture of reproduction coins. Unless stated as .999 silver replica coins, all gold and silver reproduction coins are plated. All our reproduction coins, replica coins, and/or copy coins are non-monetary.
Items Similar To "Lot of 10 - 1885 Trade Dollar Silver Coins - Replica"
Beverly Hills, California
Dealer accepts: Money Order, PayPal
Shipping: $4.95