Lindbergh 75th Anniversary Flight - flown and signed by Lindbergh - Rare Opportunity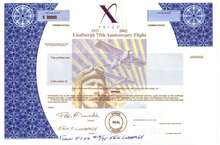 Click thumbnails for expanded view.

Beautifully engraved HISTORIC certificate from the X Prize Lindbergh 75th Anniversary Flight . This historic specimen certificate was printed by the Security-Columbian Banknote Company and has an ornate border around it with a vignette of the X Prize logo and an underprint of Lindbergh. This item has the printed signatures of the Company's President (Peter Diamandis) and Trustee ( Erik Lindbergh ). This certificate was carried on Erik Lindbergh's historic flight on May 1, 2002 which was dated, signed and numbered 1 to 75 by Lindbergh. Only 75 certificates were carried on board this historic flight representing one for each year of the 75th anniversary of the historic Charles Lindbergh Flight. A portion of the proceeds from the sale of these certificates will help fund the X Prize.
Each Certificate is authenticated, hand numbered and signed by Erik Lindbergh
Certificate Vignette and Underprint
Certificate Vignette The X PRIZE competition is a $10 million prize for the first private team to fly 100 kilometers (62 miles) to space, return to Earth and repeat the flight within two weeks. A winner is expected in the next 12-24 months. The X PRIZE competition, the first-ever space-based incentive competition, follows in the footsteps of more than 100 aviation incentive prizes offered in the early 20th Century that created today's $300 billion-dollar commercial air transport industry. The most significant of these prizes was the Orteig Prize, won by Charles Lindbergh for his 1927 flight from New York to Paris. Erik Lindbergh Departed New York on Solo Flight Across The Atlantic Grandson to follow 1927 flight plan to commemorate its 75th Anniversary and to promote the X PRIZE and space tourism The History Channel premiered a 2-hour documentary on May 20, 2002.
Lindbergh in Paris holding Certificate 10 minutes after landing in Paris on May 2, 2002 May 2, 2002 Erik Lindbergh safely flies from New York to Paris in 17hrs, 7min Lindbergh successfully recreates grandfathers flight 75 years later Avoiding thunderstorms and icy wings, Erik Lindbergh, flying in the footsteps of his grandfather Charles Lindbergh, completed his trip to Paris, landing at 11:23 an Le Bourget in Paris, France. Moments after landing, Peter kissed the ground and embraced his mom, Barbara Robbins. He then was greeted by Peter H. Diamandis, Chairman and President of The X PRIZE Foundation, who had seen Erik depart in Long Island, NY the previous day and flown via commercial airline to meet him in Paris. Along the way, Erik encountered turbulence, thunderstorms and dangerous weather conditions forcing him to fly at altitudes between 7,000 and 17,000 feet. Peter was thankful to several airliners in the area and his St. Louis Mission Control team, who offered encouragement and boosted his morale as he fought fatigue and sleep deprivation. Erik noted that his Lancair Columbia 300 performed "perfectly" in, at times, "dangerous and difficult" flying conditions. When asked by the press, "What will you do next?", Erik responded that he looks forward to flying into space with the X PRIZE. He also wanted to "thank the corporate and private sponsors" who helped make his flight a reality. Republic Airport (Farmingdale), NY Ð April 25, 2002 - Erik Lindbergh, grandson of aviation pioneer Charles Lindbergh, today announced that he is prepared to depart May 1 from New York to recreate the solo flight across the Atlantic, first accomplished by his grandfather in 1927. Lindbergh will depart from Republic Airport, Farmingdale, NY, at approximately 10:00 a.m. (ET). Erik Lindbergh's flight across the Atlantic will take approximately 18-20 hours, landing on May 2 at Le Bourget Airport, just outside Paris. "I have dreamed for years about retracing my roots and flying across the Atlantic, but until recently, I was unsure I would be able to make this dream a reality. This year, I will be flying the New Spirit of St. Louis because now I can. I am making my flight to support the development and access to new treatments for rheumatoid arthritis as well as to focus attention on the next generation of transportation: space travel. By crossing the Atlantic in a race to win the Orteig Prize, Charles Lindbergh opened the world of commercial aviation that today is a $250 billion business. Young Erik Lindbergh is doing this flight to honor his grandfather's innovation on the 75th anniversary, and to promote space tourism. The New Spirit of St. Louis flights will benefit the X PRIZE Foundation, the Arthritis Foundation, and the Lindbergh Foundation. Lindbergh's Personal Journey Though he leads an active lifestyle, Erik also suffers from rheumatoid arthritis (RA), a progressive autoimmune disease marked by pain, tenderness, and inflammation of the joints, which nearly caused him to give up his passion for aviation when he was diagnosed at the young age of 21. RA crippled Erik for 15 years and only recently has he been active again. During his worst years with RA, Erik was forced to use a cane due to the severe pain that made it almost impossible for him to walk. Today, with the help of a breakthrough biotech drug, Enbrel, Erik has his life back and is in pursuit of his dreams. Using his experience with RA, he now serves as a spokesperson for the Arthritis Foundation, working to educate o
Fairfax, Virginia
Seller Since 1995

---
Payments Accepted:
Item Details:
Category
Coins & Currency
Dimensions
Width: 0 inch
Height: 0 inch
Depth: 0 inch
Weight: 0 pound
Condition
See Description
Items Similar To "Lindbergh 75th Anniversary Flight - flown and signed by Lindbergh - Rare Opportunity"