Letter signed by the President of Princeton University 1922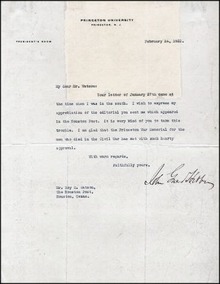 Click thumbnails for expanded view.
Letter signed by the President of Princeton University John G. Hibbendated February 24, 1922. This historic document is over 78 years old. Below is some information about John G. Hibben: "Education is the ability to meet life's situations" -- Dr. John G. Hibben John G. Hibben, 1912-32 "A singularly happy choice" John Grier Hibben, from Peoria, Illinois, was valedictorian and president of the Class of 1882. He continued his studies in Berlin and at Princeton Theological Seminary. After four years as a parish minister, he returned to the University as a graduate student in philosophy. Later, he became professor of logic and also taught psychology and the Bible. The search for a successor to Woodrow Wilson was long and painful. The University had become sharply divided during the Graduate School controversy, and Hibben's election came at the hands of trustees who had most resisted Wilson's reforms. This posed a special problem for the new president, and his most urgent task was to bring the factions together. "My administration must make for peace," he said. "I represent no group or set of men, no party, no faction, no past allegiance or affiliation--but one united Princeton!" Hibben practiced what he preached. One of his first acts was to seek out faculty members who belonged to the Wilson faction and urge them to cooperate in continuing the work begun by Wilson. In time, even Wilson's strongest supporter, Professor of Mathematics Henry B. Fine, came to feel that Hibben was a "singularly happy choice." He was more a coordinator and mediator than a dynamic leader. Soon after taking office, he presided over the opening of the new Graduate College, the monastic compound for scholars set on a hill beyond the golf course. At the dedication ceremony, he made special reference to the high-soaring Gothic tower built by popular subscription as the nation's memorial to Grover Cleveland--who, after leaving the White House, retired to Princeton and became a trustee of the University. When American entered World War I, Hibben, a strong advocate of preparedness, place the University's resources at the disposal of the government. Army, Navy, and aviation training schools were established on the campus. Laboratories and operational programs. By the fall of 1918 all but 60 undergraduates were in uniform. In all, more than 6,000 Princetonians--faculty, alumni, graduate and undergraduate students--served in some branch of the armed forces. Of these, 151 died in uniform, and their names are inscribed in the atrium of Nassau Hall along with those who have died in all the nation's wars. During the booming postwar years, Hibben was distressed by what he called the "hypocrisy attending the Eighteenth Amendment [prohibiting the sale of liquor], by false standards of living growing out of our period of fictitious prosperity and by a skepticism toward old concepts of morals and religion." Princeton University Princeton Profile, 1999-2000 Princeton Time Line 1696 Town of Princeton settled. 1746 College of New Jersey founded in Elizabeth, New Jersey, by the Presbyterian Synod. Jonathan Dickinson appointed first president. 1747 College moves to Newark under President Aaron Burr, Sr., its second president. 1748 Present charter granted in New Brunswick, New Jersey. 1753 Nathaniel and Rebeckah FitzRandolph and others deed 10 acres in Princeton to the College. 1756 Nassau Hall completed; College of New Jersey moves from Newark to Princeton. 1757 Jonathan Edwards becomes third president. 1759 Samuel Davies installed as fourth president. 1761 Samuel Finley becomes fifth president. 1768 The Reverend John Witherspoon of Scotland installed as sixth president. 1769 American Whig Debating Society formed. 1770 Cliosophic Debating Society formed. 1776 President Witherspoon signs the Declaration of Independence. 1777 George Washington drives the British from Nassau Hall. 1783 Continental Congress meets in Nassau Hall, which served as a capitol of the United States from June until November. 1795 Samuel S. Smith becomes seventh president. 1812 Ashbel Green installed as eighth president. 1823 James Carnahan becomes ninth president. 1826 James Madison, Class of 1771 and former president of the United States, becomes the first president of the Alumni Association of the College of New Jersey. 1854 John Maclean, Jr. installed as tenth president. 1868 James McCosh of Scotland elected eleventh president. 1876 The Princetonian is published for the first time (still published daily by students during the academic year). 1883 Triangle Club (originally called Princeton College Dramatic Association) founded. 1888 Francis L. Patton becomes twelfth president; Princeton University Art Museum founded. 1893 Honor system established. 1896 Name officially changed to Princeton University. 1900 Graduate School established. 1902 Woodrow Wilson, Class of 1879, elected thirteenth president. 1905 President Wilson establishes system of preceptorials by junior faculty. 1906 Carnegie Lake created by Andrew Carnegie. 1912 John G. Hibben installed as fourteenth president. 1913 Graduate College dedicated. 1914 Palmer Stadium completed. 1919 School of Architecture established. 1921 School of Engineering established. 1928 Princeton University Chapel dedicated. 1930 School of Public and International Affairs established. 1933 Harold W. Dodds becomes fifteenth president; Albert Einstein becomes a life member of the Institute for Advanced Study, with an office on the Princeton campus. 1940 Program of Annual Giving established. Undergraduate radio station (then WPRU, now WPRB) founded. 1948 Firestone Library dedicated. 1951 Forrestal Campus established on U.S. Route 1; "Project Matterhorn" research in nuclear fusion begins there. In 1961 its name is changed to the Princeton Plasma Physics Laboratory. 1957 Robert F. Goheen installed as sixteenth president. 1962 $53 million fund-raising campaign, under President Robert F. Goheen, concludes. It exceeded its goal and raised $61 million. 1964 Ph.D. degree awarded to a woman
Fairfax, Virginia
Seller Since 1995

---
Payments Accepted:
Item Details:
Category
Coins & Currency
Dimensions
Width: 0 inch
Height: 0 inch
Depth: 0 inch
Weight: 0 pound
Condition
See Description
Items Similar To "Letter signed by the President of Princeton University 1922"