John Finn, Medal of Honor, Hand Signed Photo Plus Other Items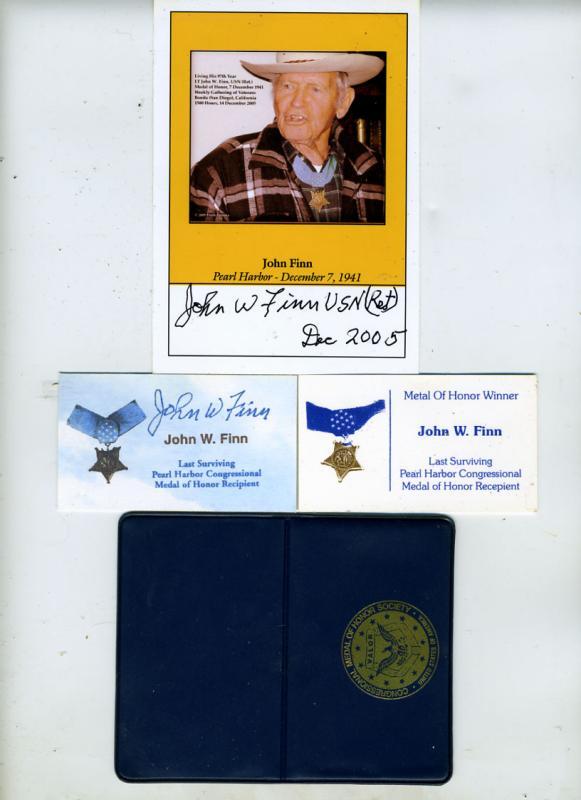 John Finn-Medal of Honor-Card Case With 2 Cards Plus Hand-Signed Photo
This is an interesting lot.
A few months before his death John sent me a package of material he told me he had been intending to send for several years. These are some of the items that were in that package. The photo is one he signed for me at an event in 2005
First, there is a vinyl Medal of Honor business card case that has the MOH Society emblem gold embossed on the front. Next is is one of John's "calling cards. Note that on the top line he spelled "medal" "metal." Third is a Medal of Honor signature card. Wherever John went he was inundated with requests for autographs. He had these printed to hand out randomly. The signature on this card is printed, not hand written. Forth is the hand-signed postcard size photo.
John Finn was always one of the most popular recipients at the various MOH reunions. He had an incredible memory up until the time of his death. He remembered not only all of the many ships he had served on, but all of their commanding officers and many of the sailors. At the age of 95 he would amaze the group he was with with these stories while he was bending beer bottle tops between his thumb and forefinger. He would often be the last one to go to bed and the first one up the next morning - fresh as a daisy.
From 1956 until shortly before his death, Finn resided on a 90-acre ranch in Live Oak Springs, near Pine Valley, California . He and his wife became foster parents to five Native American children, causing him to be embraced by the Campo Band of Diegueo Mission Indians, a tribe of Kumeyaay people in San Diego. He was buried at the Campo Indian Reservation cemetery.
Dealer accepts: PayPal
Shipping: $4.50