Johann Peter Hasenclever (German, 1810-1853)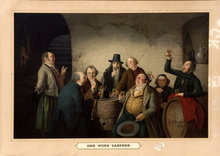 Click thumbnails for expanded view.




$950.00

---

Item Not Available
Johann Peter Hasenclever (German, 1810-1853) (Just a note about the frame: It is a circa 1890's Fruit wood frame and I am selling the lithograph and including the frame without warrantee on the frame in any way. International purchase will be shipped without the American made frame Robert's Fine Art located in beautiful Aptos California on Monterey Bay. Collector of California Impressionism Since 1987 Johann Peter Hasenclever (German, 1810-1853) Exceptional circa 1870 Two Stone lithograph and hand Colored print on Paper. The Two Stone Hand Colored lithograph print was place on a paper mat and then placed on a Linen canvas then tacked to a redwood stretcher bar. the paper mat only has a impression of lettering which is on the canvas only and not on the print itself. There are a couple of small tears which are minor and which can easily be glued back in place and only rise a tiny bit up from the paper and are not punctures to the linen backing. There are a few scratches also to the print. Biography from The Crocker Art Museum, E. B. Crocker Collection. Born in the town of Remscheid near Düsseldorf, the talented but rebellious painter Johann Peter Hasenclever studied at the city's academy of art beginning in 1827, originally as an architect. He soon turned to history painting, and left the academy after four years after a disagreement with its director. He returned in 1832 and studied under Ferdinand Hildebrandt, absorbing the humor and attention to human nature he found in the paintings of 17th-century Dutch masters. Hasenclever was especially talented as a satirist, a skill he retained when he moved to Munich in 1838 to study with the still-life painter Johann Wilhelm Preyer and his brother Gustav. After a trip to Northern Italy in 1840–42, he returned to Düsseldorf, where he continued his rebellion against the authority of the Academy until his death. This painting depicts a scene from the 1784 satirical poem Jobsiade by Carl Arnold Kortum, a rollicking tale relating the misadventures of a student of theology. In the episode depicted here, the hard-drinking Jobs is tested on the subject of bishops. Mistaking the examiners' intent, he describes the drink of that name rather than the ecclesiastical authority, much to their consternation. Though the poem is not familiar to modern audiences, Hasenclever captures the varying reactions of the examiners, making his painting a study of universal human emotions. A second version of this painting, purchased by the Bavarian King Ludwig I, is now in the Neue Pinakothek in Munich. Biography from answers.com. (b Remscheid, 18 May 1810; d D?sseldorf, 16 Dec 1853). German painter. His artistic talent was recognized in 1827, while he was at school in D?sseldorf. The same year he embarked on a course in architecture at the Akademie in D?sseldorf. In 1828 he turned to the study of history painting. After a difference of opinion over the theory of art with the Director of the Akademie, Wilhelm von Schadow, Hasenclever went home to Remscheid. There he taught himself portrait painting. An example of his work from this period is the portrait of Gertraude Scharff (1832-3; Remscheid, Dt. Werkzeugmus. & Heimatmus.). From 1832 to 1838 Hasenclever again studied at the Akademie in D?sseldorf in a painting class taught by Ferdinand Theodor Hildebrandt (1804-74). In portraits and humorous genre paintings Hasenclever found a field suited to his gifts. Pithy commentaries on the everyday life of the lower middle classes are present in all of Hasenclever's work. He was best known for subjects such as wine-tastings and cellar scenes, and he also made a series of Jobs pictures, humorous, ironic interpretations of popular life based on the poem 'Jobsiade', a grotesque and comic heroic epic written by Carl Arnold Kortum in 1784. One of the last of the Jobs pictures was Jobs as Schoolmaster (1845; D?sseldorf, Kstmus.). The early works painted by Hasenclever in the 1830s already reveal the influence of the 17th-century Dutch 'petits ma?tres'. He also found inspiration in the scenes and settings in the work of English painters such as William Hogarth or Thomas Rowlandson. In this respect The Opening of the Will by David Wilkie, which Hasenclever later saw in Vienna, was of special importance to him. Hasenclever was intrigued by the various types of heads with their exaggerated physiognomical features, the pronounced gestures, the theatrical quality of the scenery and the projection of light. In a similar manner, in Scene in a Studio (1836; D?sseldorf, Kstmus.), Hasenclever presented a satirical view of genre painters renouncing official art and the programme of the D?sseldorf Akademie.
Robert's Antiques
Aptos, California

---

This seller no longer sells on GoAntiques
Item Details:
Dimensions
Width: 33 inches
Height: 26 inches
Depth: 0 inch
Weight: 0 pound
Material
HAND COLORED 2 STONE LITHO on paper on canvas
Items Similar To "Johann Peter Hasenclever (German, 1810-1853)"