Joe Tilson, Serigraph, Dart, 1965 British art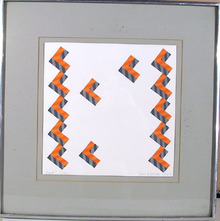 Click thumbnails for expanded view.

Artist: Joe Tilson
Title: Dart
Year: 1965
Medium: Serigraph, signed in pencil
Edition: 1/70
Size: 11"x11"
Framed Size: 19"x19"

Joe Tilson

Born: 24 August 1928, London, UK
Elected ARA: 20 May 1985
Elected RA: 26 June 1991
Category of Membership: Printmaker

Biography:

Joe Tilson initially worked as a carpenter and joiner from 1944 to 1946, before carrying out his National Service in the RAF until 1949. He went on to study at St Martin's School of Art, London from 1949 to 1952 and at the Royal College of Art, London from 1952 to 1955 where he received the Rome Prize, taking him to live in Italy in 1955. He returned to London in 1957, and from 1958 to 1963 he taught at St Martin's School of Art, and subsequently at the Slade School of Fine Art, University College London, Kings College, Newcastle upon Tyne, The School of Visual Arts, New York and the Hochschule fur Bildende Kunste, Hamburg.

Tilson's first one-man shows were held at the Marlborough Gallery, London in 1962 and at the Walker Art Gallery, Liverpool in 1963. In 1977 he joined the Waddington Galleries and is at present represented by Theo Waddington Fine Art, the Alan Cristea Gallery and by Giò Marconi Galleries. His work first gained international exposure at the XXXII Venice Biennale, leading to his first retrospective at the Boyman's Museum, Rotterdam in 1964. Further retrospective exhibitions were held at the Vancouver Art Gallery in 1979 and at the Arnolfini Gallery, Bristol in 1984. He has continued to exhibit regularly in solo shows throughout the world and a major retrospective, 'Joe Tilson: Pop to Present', is being held at the Royal Academy of Arts, London (Sackler Galleries) from 14 March to 12 April 2002.

Among Tilson's awards are the Gulbenkian Foundation Prize in 1960 and the Grand Prix d'Honneur, Biennale of Ljubljana in 1996, the year in which he was invited to paint the banner for the Palio, Siena. He was elected Royal Academician in 1991 (ARA 1985) and lives and works in London and Cortona, Tuscany.

Recent Solo Exhibitions:

2002
Royal Academy of Arts, London (Sackler Galleries)
Beaux Arts, London
Alan Cristea Gallery, London
2001
Castelbasso, Abruzzo Giò Marconi, Milan
2000
Galleria Comunale d'Arte, Cesena Civica Pinacoteca "Amedeo Modigliani", Follonica
1999
Castello Doria, Porto Venere Palazzo Pubblico, Siena
Theo Waddington, Boca Raton, Florida
Peter Guyther Gallery, London 1998 Marino alla Scala, Milan
Theo Waddington Fine Art, London
1997
Cankarjev Dom., Ljubljana
1996
Mestna Gallery, Ljubljana
Annandale Galleries, Sydney
1995
Alan Cristea Gallery, London
Theo Waddington Fine Art, London
Palazzo Pubblico, Siena
Westend Galerie, Frankfurt
1994
Galleria Rotta, Genova
Pinacoteca, Macerata
1993
Heter A Hunermann Galerie GmbH, Dusseldorf Cooperativa Ceramica d'Imola Giò Marconi, Milan Multimedia Brescia
1992
Waddington Galleries, London Waddington Graphics, London
Extra Moemia, Todi
1991
Galerie Inge Baecker, Cologne Tour Fromage, Aosta Plymouth City Museum
1990
Fortezza Medicea, Cortona
Centro Culturale Fontanella Borghese, Rome

Selected Public Collections:

Art Gallery of Ontario, Toronto
Arts Council of Great Britain, London
Australian National Gallery, Canberra
British Council, London
Contemporary Art Society, London
Christchurch College, Oxford
Galleria Nazzionale d' Arte Moderna, Rome
Gulbenkian Foundation, London
Johannesburg Art Gallery Kunsthalle, Basel
Kunstverein, Hamburg
Laing Art Gallery and Museum, Newcastle upon Tyne Museum of Modern Art, New York
Museum of Art, Carnegie Institute, Pittsburgh
New College, Oxford
Queensland Art Gallery
Royal Academy, London
South African National Gallery, Capetown
Stedelijk Museum, Amsterdam
Tate Gallery, London
Ulster Museum, Belfast
Victoria & Albert Museum, London
Walker Art Gallery, Liverpool
Walker Art Center, Minneapolis
Yale Centre for British Art

Payments Accepted:
Shipping:
Negotiated with Seller
Item Details:
Dimensions
Width: 19 inches
Height: 19 inches
Depth: 0 inch
Weight: 0 pound
Items Similar To "Joe Tilson, Serigraph, Dart, 1965 British art"