Joan Miro Framed Lithograph 1974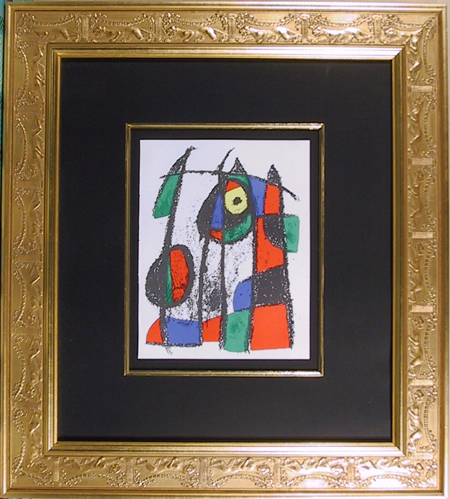 Artist: Joan Miro
Year: 1974
Medium: Lithograph
Image Size: 12.5" x 10"
Frame: 28" x 26"

Joan Miro (1893-1983)

Joan Miro was one of Spain's foremost artists. He studied at Barcelona's Gali Art Academy while keeping abreast of the Parisian art movements. His early work was influenced by fauvism and cubism. In the 1920s the inspiration of surrealism began to be seen in his paintings. The Spanish Civil War, during which he was exiled to France, was the catalyst for the intense work he exhibited at the 1937 World's Fair in Paris. He returned to Spain in 1940 when France was invaded. One year later the first retrospective of his work was held at the Museum of Modern Art in New York. In 1947 Miro visited New York and worked at Stanley William Hayter's transplanted Atelier 17, learning etching techniques. He continued to experiment in this medium for many years, using the newest materials and equipment to get the richest textural and tonal results. Miro's calligraphy shows strong Oriental affinities, and stars and birds are magical symbols which appear throughout his work. In 1975 the Miro Museum was opened in Barcelona.
Dealer accepts: Authorize.Net, Cash, Check, PayPal
Shipping: Negotiated with Seller
Items Similar To "Joan Miro Framed Lithograph 1974"