Jacob Lawrence, Supermarket-Flora, Silkscreen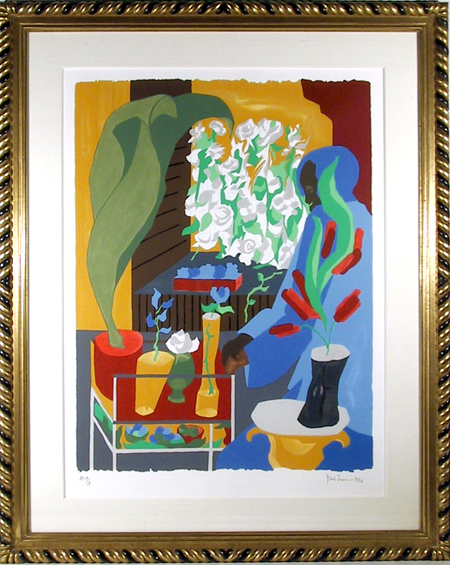 Title: Supermarket-Flora
Year: 1996
Medium: Silkscreen -23 Colors [Signed and Numbered in Pencil]
Edition: 108, AP 18/18
Paper Size: 35" x 26 3/4"
Frame: 43" x 34"


JACOB LAWRENCE (1917- 2000)

Jacob Lawrence's work combines realism with abstract decorative design and deals primarily with the black experience in America. In narrative series of paintings, he has highlighted the lives of outstanding blacks and chronicled contemporary black history.

Lawrence paints in tempera on composition board, using highly-stylized figures, vivid primary colors and sharp contrasts. While still in his twenties, he was the first black artist to be honored with a one-man show at the Museum of Modern Art in New York City.

Lawrence was born in Atlantic City, New Jersey in 1917, and spent his infancy in Easton, Pennsylvania. When he was three, his mother took him to live in Harlem, then an active center for the arts.

The young Lawrence began studying art at an early age, first in after-school programs and later at the Harlem Art Workshop. For much of this time black artist Charles Alston was his mentor. In 1937, Lawrence received a scholarship to the American Artists School; the next year, when he turned 21, he was accepted as a painter in the WPA Federal Art Project.

Through the late 1930s and early 1940s, Lawrence completed carefully-researched series of paintings on the lives of Toussaint L'Ouverture, Frederick Douglas and Harriet Tubman. He followed these with paintings that traced the Northward migration of blacks after the Civil War and depicted events in Harlem.

During World War II, he served in the Coast Guard. Afterward, he painted still another series, this one based on wartime experiences.

The civil rights movement and the desegregation of the South during the late 1950s and 1960s provided Lawrence with themes for later paintings. At the same time, he undertook the first of many teaching assignments.

Even Lawrence's mature paintings have retained an almost childlike simplicity. This, combined with his ability to capture expressive human gestures, gives his work a subdued strength.

A trip to Nigeria in 1964 provided him with material that, for the first time, did not deal with the American black. In recent years Lawrence's paintings have dealt less with social commentary, and his more purely decorative side has come to the fore.


Dealer accepts: Authorize.Net, Check, Cash, PayPal
Shipping: Negotiated with Seller
Items Similar To "Jacob Lawrence, Supermarket-Flora, Silkscreen"