Ivory Carvings - The Eight Immortals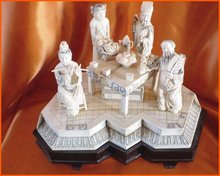 Click thumbnails for expanded view.



$6,000.00

---

Item Not Available
AUCTION ESTIMATE = $12,000 Hand Carved Ivory - This pair of ivory carvings showcases the EIGHT TAOIST IMMORTALS seated at tables crowned by PEACHES. The combined weight of the ivory is in excess of 9 POUNDS. The top 2 photos are of Group 1 while the bottom 2 photos are of Group 2. There is a bowl of peaches on each table. The peach is the chief ingredient of the elixir of immortality and a symbol of long life. GROUP 1: HAN HSIEN-KU was born in the 8th century AD. He was an intelligent child who disdained the vanity of the world. He was initiated into the secrets of Taoism by Immortal Lu Tung-Pin. He probed the mysteries of Heaven and mastered the Five Phases of Energy. Lu Tung-Pin carried him up to a vantage point on the mythical World Tree to show him the universe. Han Hsien-Ku fell and was killed but resurrected himself. He was very poor but totally unconcerned. He performed wonderful feats and is able to foretell the future and often is depicted with a bouquet of flowers. He carries a flute and plays the Six Healing Sounds. LAN TSAI-HO was born during the Tang Dynasty. He is an entertainer, street singer and beggar who gave his money to the poor. He wrote and sang songs which questioned this life. He was found in taverns buying wine for everyone. One evening he left a tavern and mounted a crane that carried him off before an astounded crowd. His symbol is a basket of flowers associated with longevity. LU TUNG-PIN is the hero of marvelous wisdom. He was born during the 8th century AD and is said to still be alive. He was a scholar who converted to Taoism after being initiated by Chung-Li Chuan. Lu Ting-Pin carries a horse hair whisk symbolizing his ability to fly and walk on clouds. He is portrayed with a double-edged magic sword of supernatural powers given to him by a dragon. It allows him to hide in the heavens and make himself invisible to evil spirits. He can travel thousands of miles in an instant and roamed about China seeking those with kind hearts and transformed them into Taoist Immortals. He would embarrass and punish the rich and powerful when he caught them oppressing the powerless and poor. He spent 400 years on earth, and periodically reappears. CHUNG-LI CHUAN was born in the 3rd Century AD. After meeting an old man who taught him the Tao, he went to the mountains becoming a wanderer and a beggar. While meditating, the wall of his dwelling crumbled exposing a jade box that contained secret meditation instructions on how to become an Immortal. He followed the instructions and a crane arrived and carried him into the regions of immortality. He then wandered among the heavens alone. During a great famine he changed copper and pewter into gold and silver giving it to the poor saving thousands of lives. He taught Lu Tung-Pin the secrets of Taoism after convincing him of the emptiness of life and persuaded him to join in his blissful life as a fellow Immortal. He is portrayed as bearded and thinly clad. His symbol is a fan which he uses to revive and reincarnate the souls of the departed. He has often reappeared on earth as a messenger of heaven. Dimensions: 15.00" x 9.00" x 9.00" Weight of Ivory: 4 Pounds, 13 ounces GROUP 2: TSAO KUO-CHIU is one of two royal brothers. He was so ashamed of his brother, a murderer and a hedonist, that he gave away his wealth to the poor and went into the mountains to seek the Tao. After some time he could easily transform himself into the Tao. One day he met 2 of the 8 immortals, Chung-Li and Lu Tung-Pin. Lu Tung-Pin asked him, "What are you doing?" He replied, "I am nurturing the Tao and studying the Way." Asked where the Tao was, Kuo-Chui pointed to heaven. Asked where heaven was, he pointed to his heart. Chung-Li Chuan said, "The heart is heaven and heaven is the Tao. You have found the truth and the way. You understand the origin of things." They invited him to travel with other Immortals. His symbol is the castanets which he plays to facilitate meditation. He is said to be still living on earth. HO HSIEN-KU was born in the 7th century A.D. and is still alive. She became an immortal at age 14 after meeting Lu Tung-Pin, who taught her alchemy giving her a precious rare PEACH OF IMMORTALITY. After eating the peach, she was able to journey in her spirit body to pay homage to the Great Taoist Goddess of Immortality who carried her off to the gardens of Boundless space, Ho Hsien-ku's new home. She gained the ability to nourish herself by feeding upon sweet, heavenly dew and the omnipresent Chi. She spent her youth telling fortunes, flying and floating between mountain peaks collecting herbs and food for her mother and the poor. She frequently flew to the mountains to meet other female immortals. Ho Hsien-Ku still appears to the virtuous, the innocent, and oppressed people in need of divine intervention. She holds a magic lotus blossom, the flower of open-heartiness and divine brilliance, which symbolizes her power and purity. CHANG KUO-LAO was born during the 8th Century AD. He was an old man and hermit who mastered the secrets of Immortality. He has a fabulous horse that carries him thousands of miles in a few moments. He entertained one emperor by making himself invisible and drinking poisons who bestowed upon him the title, "Master of Understanding the Mystery" then offered him a high position and his daughter in marriage. Chang Kuo-Lao declined then laid down and died. When his disciples opened his coffin it was found empty. After this he was frequently seen alive. His symbol is a tube containing wands with which he can foretell fortunes. He is known to help souls to reincarnate. LI TIEH-KUAI or "Iron Crutch Li" was born in the 2nd Century, AD. He lived in the mountains for 40 years in meditation. He often forgot to eat or sleep. Depicted as a lame and ugly beggar, he was once a handsome and well built man. His transformation occurred after his spirit body went to see Lao Tzu. He asked his student to watch over his body for seven days. He told his student to burn his body after seven days if he had not returned. After six days the student learned that his mother was dying, so he burned Li's body and went to his mother's bedside. Li returned on the seventh day and, seeing that his body had been destroyed, entered the corpse of a lame beggar who had just died. He blew water on the beggar's bamboo staff and changed it into an iron crutch and magic staff. His symbols are the staff and gourd (a symbol of the universe). He can change matter with the staff and concoct medicines and potions from his gourd. He is credited with raising his student's mother back to life using a magical potion mixed in the gourd. At night he makes himself very tiny and enters his sleeping quarters inside the gourd. He is well known to the poor, sick and needy by his reputation for benevolence. He eventually ascended to heaven in the form of a dragon but frequently returns to earth to help others. Dimensions: 14.50" x 8.75" x 8.50" Weight of Ivory: 4 Pounds, 8 ounces The combined weight of the ivory for both groupings is in excess of 9 pounds. Each group comes with its own custom hardwood stand. These carvings are 100% genuine elephant IVORY and in EXCELLENT CONDITION. One carving has a small piece missing on one side. They were HAND CARVED and HAND SCRIMSHAWED in China by a gifted master craftsman in the early 1900s. They have a lovely patina that nature has chosen to bestow upon them. These carvings are UNIQUE and exhibit beautiful IVORY GRAIN which is guaranteed to be clearly visible. The ivory has been highly polished and exquisitely detailed. The quality of the ivory, the quality of the carving and the quality of the scrimshaw work are all exceptional. These carvings were legally imported into the USA and can only be shipped to locations within the USA. In January of 2006 Columbus (the experts in Asian art) provided an auction estimate on these pieces of $12,000. Auction estimates are conservative and typically well below appraised values. The estimate for these assumes no premium for having the complete set. PLEASE E-MAIL US FOR MORE PICTURES.
Dealer Accepts:
Item Details:
Category
Furniture & Furnishings
Dimensions
Width: 15 inches
Height: 9 inches
Depth: 0 inch
Weight: 9.31 pounds
Condition
See Description