Heavily Carved Oak Vintage French Renaissance Dining Table Parquetry Pattern Top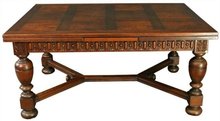 Click thumbnails for expanded view.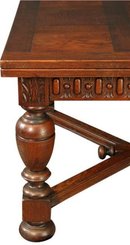 Product Details
Item #:
14-3D-0
Dimensions (inches):
30H x 43W x 62.75L
Leaves (Qty 2) 23.50L
Comment:
A large and attractive Vintage Renaissance Dining Table from France with handsome ball and bar carvings in oak along the edges of the table. Dating to the 1950s, this massive table has large, solid oak, turned legs that stand on a large block with round, bun feet. The surface of this Vintage French Renaissance Table has a checkerboard parquetry pattern created from oak veneer squares that are in good condition. This Vintage French Renaissance Table measures over 5 feet without the leaves and more than 9 feet long with the leaves extended - perfect for family holiday meals!
Origin:
France
Date:
1950
Material:
Oak
Condition
Condition:
GOOD
In overall good condition. Antique and vintage items by their very nature show normal wear to finish and miscellaneous scratches, nicks, and dings due to age and use. As we define 'good condition' relative to the stated age of the piece, we would expect to see 'character marks' consistent with that age and could include nicks or dings on a piece of furniture, normal separation at joints in wood due to expansion and contraction over time, minor damage to veneer has been stabilized, most locks functioning, most drawers and doors open or slide easily, some original trim may be missing or has been replaced with genuine period-correct substitutes or new reproductions, and there may be one or more splits in the wood due to age and use. If there has been a break in the marble, it has been repaired and the repair may be visible. There may be minor restoration that is visible. Chairs considered 'good condition' may have professional structural repairs but are considered to be structurally sound. These types of repairs may be visible upon close inspection. Upholstered items may show wear consistent with age and use and may need to be reupholstered. EuroLux Antiques makes no representation regarding the comfort of chairs or useability for the customer's particular application.
Item Specifics:
Shows normal wear to the finish and miscellaneous nicks, dings, and scratches due to age and use.
Shipping
Free Shipping:
Free shipping only applies within the Contiguous 48 United States and this item will be shipped via Vanline. Vanline shipments generally take between 4-8 business weeks after being picked up by the vanline at the EuroLux Gallery. Delivery times may vary depending on your exact location and the current schedule of our preferred vanline.
If this timeframe exceeds your expectations or shipping requirements, please do not purchase this item or you may contact EuroLux Antiques for a more accurate delivery time estimate. All shipments include insurance and will be delivered into your home. In accordance with our full Terms & Conditions pieces ship FOB EuroLux, and the customer is responsible for fully inspecting each piece for damage upon delivery. Once the customer signs the delivery receipt stating that the item was received in good order, the insurance is null and void, and no future insurance claims will be made. Please contact EuroLux Antiques for further details.
Additional Information
Style:
Renaissance RENAISSANCE REVIVAL: HENRY II AND HUNTING STYLES
As the middle class rose in status and wealth with the advent of the Industrial Revolution in the 19th century, more people were able to afford furniture. This flattening of society in combination with technological advancements created a surge of furniture production. Improved transportation meant a greater variety of wood was available at lower costs. For the first time, furniture became accessible and affordable to the common man. From the 1830s to the end of the 19th century, furniture makers reached back to earlier historical styles, and reinterpreted them with a great deal of creativity and experimentation. Although machines were used to increase speed and productivity, most of the carvings were still done by hand. Consumers were hungry for large, ornate and heavily carved furniture that would impress their friends and family and show off their newly found wealth.
The Renaissance Revival style is marked by massive proportions and heavy, ornate carvings. Most furniture was produced in dark oak and walnut. There are actually several sub-styles that fall under the broader Renaissance Revival style and include the Henry II (Henri II) style, Hunting style, Mechelen style, and Louis XIII style.
In France, the Renaissance style is often referred to as Henry II (Henri II) style, based on the reign of Henry II (1547 - 1559), although it is surprising that the style was not named for his father, Francis I. Considered to be the great French Renaissance monarch, Francis I (1515 - 1547), a contemporary of Henry VIII in England, was a great supporter of the Arts and the Humanities. Enamored with Italian Renaissance art and architecture, he convinced Leonardo da Vinci and other great Italian artists to move to France and work at his court, decorating his many palaces and chateaux (palaces out in the country rather than in Paris) in the lush Loire Valley. He actively collected artistic works by Raphael, Michelangelo, and Titian, which were the beginning of the magnificent art collection of the French kings on display today in the Louvre in Paris. Decorative hallmarks of the Henry II style include arches, pediments, columns, finials, carved flowers, fruit, scrolls and often references to Greek and Roman mythology, including male and female heads, faces or figures.
The Hunting style developed as an exotic way to decorate the royal and aristocratic hunting lodges (the chateaux of the Loire Valley). Furniture makers specialized in detailed carvings of winged griffins, lion's heads, and trophies of the hunt, including deer, fish, eels, rabbits, birds, and dogs. Lush foliage in the form of leaves and berries were often carved along edges of buffets and on the backs of chairs, while the bases of tables were often carved to represent the beasts of the hunt: dogs, boars, deer, and foxes. 19th century consumers of the Renaissance Revival style were crazy for the massive, heavily carved and ornate Hunting style and many pieces also included intricate stained glass doors in the upper cabinets.
Object:
Dining Table
The Fine Print
Because EuroLux Antiques maintains its own website and lists on other online sites, while also operating a physical store location in Newberry, South Carolina, we reserve the right to end any listing early if it has not been purchased outright or no bids have been placed upon the item. On occasion, a piece listed on a website may no longer be available. We do our best to maintain the accuracy of our inventory records but we often have customers interested in the same item at the same time. In those cases, we defer to the customer who placed the earlier order. We apologize in advance by any inconvenience this may cause. Because of this, we encourage all of our buyers to purchase the item as quickly as possible so that your treasured find doesn't sell elsewhere to someone else. Happy browsing and thanks! Aimee & Greg Talbot at EuroLux Antiques.
Terms & Conditions
By purchasing, all Buyers acknowledge that they have completely read and agree to all terms and conditions stated in EuroLux Antiques'
Complete Terms and Conditions.
EuroLux Antiques
has painstakingly developed these policies and procedures to protect the Buyer and
EuroLux Antiques, and not reading these policies will not be accepted as an excuse for the Buyer's dissatisfaction.
A Note About Shipping EuroLux Antiques takes a great deal of pride in its packing and shipping. Please keep in mind that packing fragile and
Newberry, South Carolina
Seller Since 2004

---
Payments Accepted:
Shipping:
Negotiated with Seller
Item Details:
Category
Furniture & Furnishings
Dimensions
Width: 43 inches
Height: 30 inches
Depth: 0 inch
Weight: 190 pounds
Condition
Used - Good. See description for more details.
Items Similar To "Heavily Carved Oak Vintage French Renaissance Dining Table Parquetry Pattern Top"