Greyhound Corporation - Famous Bus Company "..and leave the driving top us"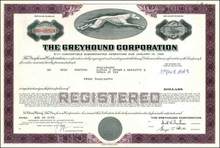 Click thumbnails for expanded view.

Beautifully engraved Certificate from the Greyhound Corporation issued from 1971 - 1983. This historic document was printed by the American Banknote Company and has an ornate border around it with a vignette of the famous Greyhound Dog logo. This item has the printed signatures of the company's officers and is over 18 years old.
Certificate Vignette
Greyhound began its operations in 1914 as the Mesaba Transportation Company in Hibbing, Minnesota, when Carl Eric Wickman began transporting miners from Hibbing to Alice, Minnesota. In 1990, Greyhound Lines' unionized workforce went on strike. The strike continues for three years. As a result of mounting strike losses, Greyhound Lines files for reorganization under Chapter 11 of the Bankruptcy Code. Bus operations continue under bankruptcy protection. In 1991, Greyhound emerged from bankruptcy reorganization Today the business has grown to serve more than 2,600 destinations with 18,000 daily departures in the 48 contiguous states. Since 1994, GLI has experienced a major growth trend. Greyhound carried more than 19 million passengers in 2000. The company's busiest route is New York to Atlantic City with well over 2,000 passengers traveling between these locations daily. New York to Washington, D.C. is second with an average of 1,300 passengers on the route each day. 1914 Swedish immigrant Carl Eric Wickman begins transporting miners from Hibbing, MN, to Alice, MN, for 15 cents a ride. This is cited as the original Greyhound bus line. 1915 Wickman joins forces with Ralph Bogan, who was running a transit service from Hibbing to Duluth, and the company is retitled the Mesaba Transportation Company. First year profits are $8,000. 1918 The company expands to 18 buses within Minnesota and earns $40,000 in profits. 1922 Wickman and Bogan join forces with Duluth bus operator Orville Caesar, operator of the Superior-White Bus Lines. Additional Midwestern bus lines are acquired under the name Motor Transit Corporation. The company is relocated to Duluth and E.C Eckstrom serves as the company's first president. 1924 Wickman's former partner, Ralph Bogan, joins his bus lines with the company. Wickman assumes the presidency of the company. 1926 Motor Transit joins forces with two West Coast operations, the Pickwick Lines and the Pioneer Yelloway System, to form the Northland Transportation Corporation a.k.a. "the Greyhound Lines." The running dog is first used as the company's logo. 1927 A Greyhound-affiliated bus makes the first transcontinental bus trip from California to New York--five days, 14 hours. 1928 An investment of $240,000 in Greyhound by the Great Northern Railroad spurs nationwide expansion. 1929 Greyhound acquires Yelloway Lines for $6.4 million. The first nationwide advertising campaign for the Greyhound Lines is launched, including its first radio ads. 1930 The various Greyhound lines across the nation form The Greyhound Corporation. Corporate offices are moved from Duluth to Chicago. 1931 The Great Depression threatens Greyhound Lines' future. A number of subsidiary lines are sold. General Motors assumes $1 million of Greyhound Lines' debt. 1933 Greyhound is selected as the official transportation carrier at the 1933 World's Fair in Chicago. Taking a gamble on the success of the fair, the company reserves 2,000 hotel rooms and begins a campaign offering transportation and lodging to the fair on one ticket. The promotion earns more than $500,000 in Depression-era profits. 1934 The movie "It Happened One Night," starring Clark Gable and Claudette Colbert, prominently features a Greyhound bus in the story, spurring interest in bus travel nationwide. 1935 Greyhound Lines' profits exceed $8 million--its stock splits four for one. Congress passes the Motor Carrier Act to place bus transportation under the regulatory authority of the Interstate Commerce Commission (ICC). 1936 The Brotherhood of Railroad Trainmen initiate the first localized labor strike against Greyhound, seeking a 40-percent wage increase. Within a week, the strike is settled with a 7-percent increase. 1937 Greyhound introduces the "Super Coach," a 36-seat bus that is advertised for family travel. 1939 The company exceeds 200 million miles of travel annually, with 4,750 stations and nearly 10,000 employees. Greyhound is chosen the official bus carrier of the 1939 World's Fair in New York. 1940 Citing poor food service at many local bus stops, Greyhound establishes its successful "Post House" chain of company-operated restaurants. 1941 Greyhound acquires 80-percent of Western Canadian Greyhound Lines. 1942 Greyhound becomes a major carrier of troops heading to the East and West coasts. As more than 40% of its workforce is called to military service, Greyhound begins training women to drive buses. 1946 As post-war transportation production returns, Greyhound buys more than 1,500 new GMC "Silversides" buses at a cost of $39 million. Eric Wickman retires after 32 years of service. Orville Caesar is elected as his successor. 1948 Greyhound revenues top $190 million, tripling its 1939 figures. Overall net income now exceeds $17 million per year. 1950 The ICC approves the acquisition of Southern Greyhound Lines into the Greyhound Corporation, one of the largest independent Greyhound affiliates. The "Post House" chain expands to 139 restaurants, serving 40 million passengers annually. 1954 Greyhound founder Eric Wickman dies at the age of 67. Greyhound Lines' most famous bus, the two-level Scenicruiser, is introduced. 1956 Greyhound Lines' board of directors selects Arthur Genet to succeed Orville Caesar. Genet is the first chief executive of the company outside the co
Fairfax, Virginia
Seller Since 1995

---
Payments Accepted:
Item Details:
Category
Coins & Currency
Dimensions
Width: 0 inch
Height: 0 inch
Depth: 0 inch
Weight: 0 pound
Condition
See Description
Items Similar To "Greyhound Corporation - Famous Bus Company "..and leave the driving top us""