Fukusa Designer Accent Pillow with Children Playing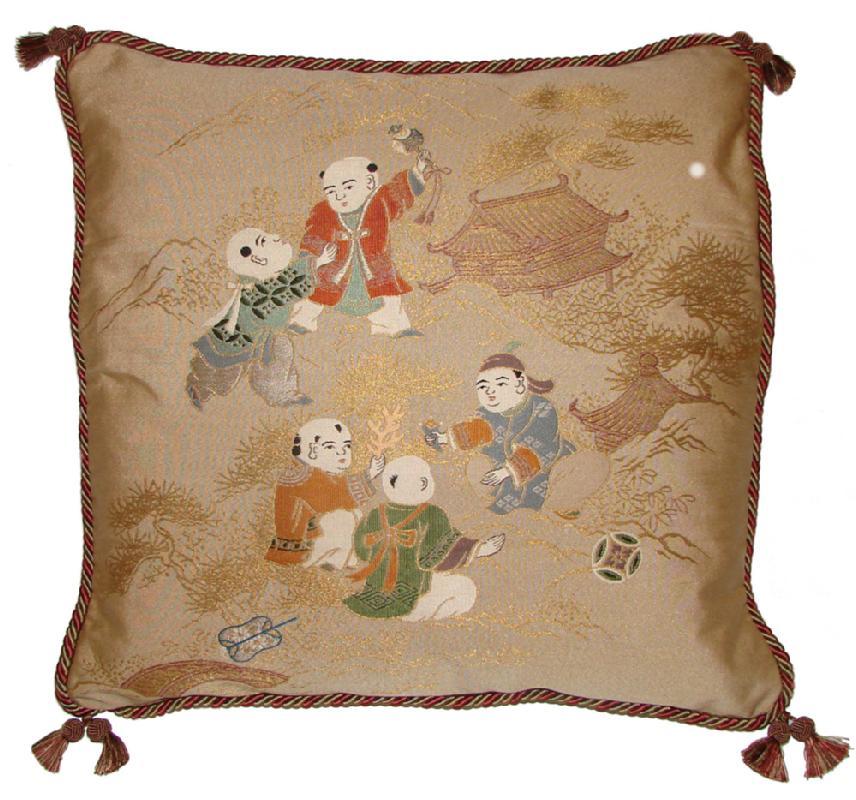 Children playing is a common theme for gifts at a wedding. Often the gifts covered with or having this motif were given to parents of the bridal couple – congratulations and a wish for grand children. The wish is not, as most Westerners think, for 'many children'. Rather, it is a wish for a strong family line into future generations, and through the children, ties to other families which strengthen and increase the prosperity of their family. Circa 1940

Backing is light olive silk with muted red/green/gold cording and tassels.

A Fukusa is a woven square of silk fabric traditionally used by the Japanese to cover a ceremonial gift during its presentation. We've used Fukusa (Fukusa is both singular and plural) to create unique decorative pillow covers which are about 24" x 24" in size. Fukusa, are generally backed with another piece of silk material. Often the backing silk material is bright orange or red and contains the family crest of the person or family giving the gift. Each of these Fukusa are combined with hand selected backing fabrics, borders and tassels to make decorative accent pillows that are truly one-of-a-kind.

Most modern Fukusa are quite small and mostly used for the tea ceremony. Think of them as a combination of gift wrapping and greeting card. The message conveyed by the symbols on the Fukusa is very important and needs to be appropriate for the occasion. The Fukusa silk decorative pillows we offer are made using these antique or vintage (around 50 to 100 years old) gift coverings.

Fukusa that are in acceptable condition and suitable for decorative designer pillows are becoming increasingly scarce and hard to find. And as the scarcity has increased, the prices have also increased dramatically. Fukusa are a beautiful, disappearing piece of Japanese cultural history but beautifully preserved in these decorative down pillows.

The Fukusa used in these down pillows is a hand woven silk with intricate loom embroidery. In addition, some of these Fukusa also have hand embroidered highlights. All accent pillow fillings are down and feathers. As these are old pieces, at least 50 years old, there is minor wear associated with age but these decorative throw pillows are all sturdy and in excellent condition.
New Orleans, Louisiana
Seller Since 2008
Dealer accepts: PayPal, Money Order
Shipping: $25.00