Federated Department Stores, Inc. - Pre Bankruptcy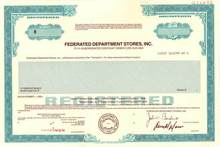 Click thumbnails for expanded view.

Beautifully engraved SPECIMEN certificate from the Federated Department Stores, Inc. dated 1988. This historic document was printed by the Security - Columbian United States Banknote Corporation and has an ornate border around it. This item is over 14 years old. Federated History 1929 Federated Department Stores, Inc. is formed as a holding company by several family-owned department stores, including Abraham & Straus and F&R Lazarus (along with its Cincinnati-based subsidiary, Shillito's) and Filene's of Boston. Corporate offices established in Columbus, Ohio. 1930 Bloomingdale's joins Federated. First-year sales for Federated were $112 million. 1934 A modern merchandising standard is set when Fred Lazarus (son of Simon) arranges garments in groups of a single size with range of style, color and price in that size, rather than the other way around. Lazarus based this technique upon observations made in Paris. 1935 Boston's Jordan Marsh is one of the founders of New York City-based Allied Stores Corporation, a successor to Hahn Department Stores, Inc. A holding company founded in 1928, Hahn brought chain store advantages to independent, family-owned department stores. Fred Lazarus, Jr., convinces President Franklin Roosevelt that changing the Thanksgiving holiday from the last Thursday of November to the fourth Thursday, extending the Christmas shopping season, would be good for the nation's business. A 1941 Act of Congress perpetuated the arrangement. 1939 Federated and Allied stores made shopping easier during difficult economic times by offering credit, a 'pay when you can' policy and developing a reputation for community involvement in times of crisis. 1945 Federated moves its offices to Cincinnati. Macy's acquires O'Connor Moffat & Company of San Francisco. 1946 In several ways, Shillito's becomes the first department store to embrace the African-American community. It is the nation's first department store to give credit to African-Americans, as well as employ them as salespeople and executives. The store's restaurant is the first in downtown Cincinnati to serve African-American customers. 1947 O'Connor Moffat becomes Macy's California. 1951 Allied acquires New Jersey's Stern Brothers, later known as Stern's. 1956 Miami-based Burdines becomes a division of Federated. 1957 Seventeen-year-old, designer-to-be Ralph Lauren sells sweaters at Bloomingdale's over Christmas week. The following year, he joins Allied Stores as assistant menswear buyer. 1959 Federated acquires Dayton, Ohio-based Rike's and Memphis-based Goldsmith's. 1962 Allied acquires the William H. Block Company of Indianapolis. 1964 Federated breaks the 10-figure barrier for the first time, netting annual sales of $1.215 billion. Federated acquires Los Angeles' Bullock's and I. Magnin. 1967 Allied also passes the billion dollar mark, with annual sales of $1.024 billion. 1968 Black Retail Action Group (BRAG), founded in part by Abraham & Straus executives, gives technical assistance to minority-owned businesses and scholarships to retailing students. This furthers A&S' commitment to African-Americans; the company was the country's first major retailer to sign up for Plans for Progress, President Kennedy's commission on job opportunities for African-Americans. 1976 Through an exchange of common stock, Federated acquires Atlanta-based Rich's. 1980 To help meet the civic, health and welfare, educational and cultural needs of the communities Federated serves, the company invests $15 million to establish a charitable foundation. 1982 The merger of Rike's of Dayton and Shillito's of Cincinnati results in Shillito-Rikes. 1985 The newly formed Federated Systems Group (then known as The SABRE Group) begins the conversion of all Federated divisions to a common electronic data processing system. Davison's of Atlanta changes its name to Macy's. 1986 A single, billion-dollar organization is formed with the merger of Federated's Shillito Rikes of Cincinnati, and Columbus-based Lazarus. With headquarters in Cincinnati, the division operates under the Lazarus name. Campeau Corporation acquires Allied Stores Corporation, which is reorganized under the merger agreement. 1987 Federated buys Allied's Indianapolis-based Block's division, incorporating it into Lazarus. 1988 Campeau Corporation acquires Federated. Several Federated divisions, including Foley's and Filene's are sold to other retailers. Macy's purchases Bullock's and I. Magnin from Campeau. To consolidate with Federated, Allied's New York headquarters move to Cincinnati. Allied - operating in tandem with Federated - comprises The Bon Marché, Jordan Marsh, Maas Brothers and Stern's. Goldsmith's merges into Rich's, although the Goldsmith's nameplate is maintained in the Memphis market. 1989 Federated forms its Financial and Credit Services operation (the FACS Group) in suburban Cincinnati to centralize credit services for all department store divisions. Federated's employee volunteer program, Partners in Time, is founded at Rich's/Goldsmith's as a way to give back to the community. 1990 In January, saddled by debt resulting from the highly leveraged Campeau takeover of Federated, both Federated and Allied file for bankruptcy reorganization. The reorganizing of more than $8 billion of debt begins. Allen Questrom becomes chairman and chief executive officer, joining James M. Zimmerman, president and chief operating officer, to form the senior management team that would resurrect the company. 1991 Divisional consolidations begin. The company's Florida operations, including all former Maas Brothers/Jordan Marsh stores operate under the Burdines name, and division headquarters are consolidated in Miami. 1992 A new public company - Federated Department Stores, Inc. - emerges in February with 220 department stores in 26 states and annual sales of approximately $7 billion. The former Allied Stores Corporation is merged into Federated. A consolidation of the A&S and Jordan Marsh divisions results in the A&S/Jordan Marsh division, headquartered
Fairfax, Virginia
Seller Since 1995

---
Payments Accepted:
Item Details:
Category
Coins & Currency
Dimensions
Width: 0 inch
Height: 0 inch
Depth: 0 inch
Weight: 0 pound
Condition
See Description
Items Similar To "Federated Department Stores, Inc. - Pre Bankruptcy"