"Farewell kiss" original watercolor of M. Asher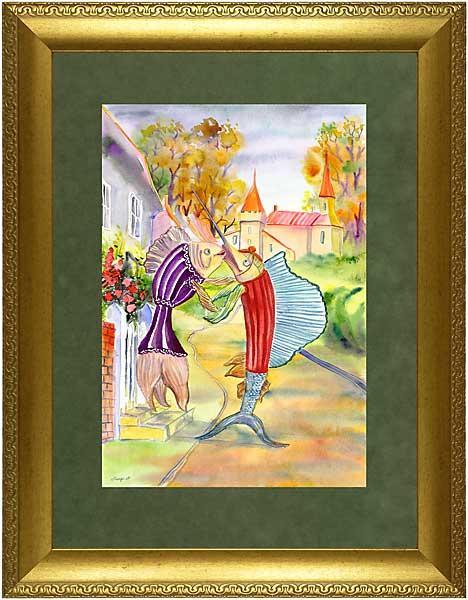 Original watercolor "Farewell kiss" of English artist Margaret Asher. Unique art work of past epoch.
Watercolor on paper.
Size 15x23in (38x57cm)
Watercolor will be delivered into beautiful frame, mat and glass in protective packing. You can choose green or blue mat for this unique and funny watercolor. Shipping is free through express mail.
About artist: Asher Margaret (1920 - 1997) Watercolors of Margaret Asher is a marvelous sample of English humor of a life of old England at the beginning of the 20th century. The fashionable aristocratic resort where sisters Asher spent the most part of the life, gave many such possibilities. The Asher sisters, Margaret and Elizabeth, were born at the beginning of the 20th century in England in the resort town of Bath. The sisters themselves were from a well-to-do family and have been well educated, including the art education. Each watercolor of Margaret Asher is as a small sketch of a life of typical small English town and its suburbs. You can see here both the postman, and the policeman, and respectable inhabitants... But all of them are fishes... Yes, yes, fishes! Margaret Asher drew the heroes as fishes. Very respectable fishes, it is necessary to tell. Each of them has the character, and often dressed in the latest fashion of that time, goes on a tail. And we see all scale of the human feelings inherent in the person on it muzzle, more precisely, on the face. Probably, it was easier to her to draw the neighbors and acquaintances in such kind. Today it seems that Margaret has lived all her life among these respectable fishes, instead of respectable Englishmen... Artists Margaret and Elizabeth Asher have lived the long life, they have stopped to draw at the turn of the ninetieth years of the last century. You can look at this original watercolor in our Gallery-2000.com
NY, NY,
Seller Since 1999
Dealer accepts: Cash, PayPal, 2Checkout
Shipping: USPS Priority Mail
Items Similar To ""Farewell kiss" original watercolor of M. Asher"